There is a lot of confusion and misconception regarding the job roles of an image consultant vs fashion stylist. The experts work to help their clients grow and enhance their personalities but their approach is different.
When a celebrity or a public figure wants to get ready for a particular event, be it a shoot or a show, they hire fashion stylists. These fashion geniuses even go with clients for shopping and pick clothes that suit them best while following the trends. Image consultants, on the other hand, work on the overall personality. They go beyond refining dressing and help people bring out the best version of themselves, brush up their confidence, improve their communication skills, and whatnot.
Let's understand a fashion stylist vs image consultant and their areas of expertise in detail.
Who Is an Image Consultant?
Celebrities and public figures need a professional to guide and coach them on public speaking, demeanor, and behavior. These aspects are crucial to setting the right first impression. That is where an image consultant comes into the picture as a marketing expert who helps them build the image they want for themselves. In an era where people's perspective is reality, image consultants present individuals in a specific way with pre-defined goals in mind. Famous and obvious personalities seek several benefits from consulting, research, and analysis services. They primarily work to improve:
Communication- The way you convey your thoughts and words.
Appearance- It includes styling, dressing, wardrobe, and accessories patterns.
Behavior- Things you portray through your body language and actions.
Who Is a Fashion Stylist?
A fashion stylist manages the clothes celebrities wear. From guiding them about the latest fashion trends to selecting the best outfits, a stylist takes care of it all. Actors, artists, and famous personalities hire fashion stylists to create the desired image with their fashion sense. Many wonder how to become a fashion stylist. Well, they may have formal training or an innate sense of fashion trends but the most crucial job role is to stay updated with the current trends.
 Importance of a fashion stylist
A consultant advises clients on their public images and presentation but a stylist has the responsibility to keep up with the new trends and pick the best of them to style clients. Fashion stylists help clients look their best according to their taste & budget and fashion trends. Apart from fashion styling, they also perform the job of a personal shopper for clients and fill their wardrobes with a variety of clothes and designs.
Difference Between Image Consultant vs Fashion Stylist: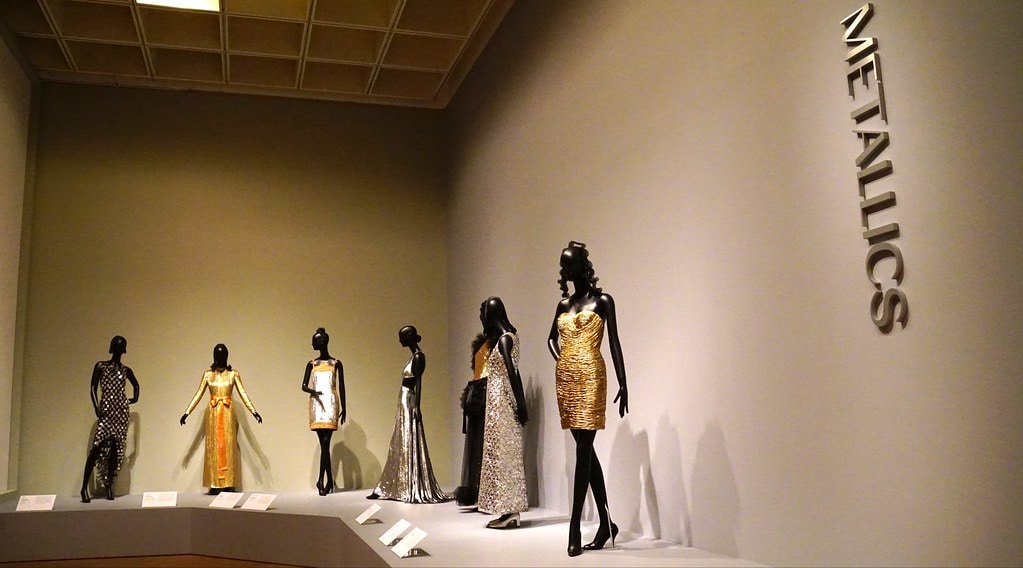 Many people think that a fashion stylist is an image consultant too but the two roles are completely different. If you are planning to make a career in this niche, then this information will help you.
Fashion Stylists
They focus on personal fashion and the clothes their clients wear. They visualize the complete look and then combine the right outfits, accessories, and footwear that look the best on them.
They select fashionable outfits based on the goals of the project they are handling, be it a photo shoot, music video, movie, magazine cover, TV or print commercial, etc.
They also take care of makeup and hair along with clothes and even help with personal shopping while staying within clients' budgets.
They have a knack for fashion sense, whether it is because of their formal training or innate talent. Also, they constantly keep an eye on the fashion trends and spot the right one for each client.
Image Consultants
They work for clients on a more personal level, helping them shape their personalities, build a public image, understand themselves, and bring out their best version.
They enhance the image of clients so clothes and styles that stylists recommend must align with the person. The outfits and accessories are tools to reflect an individual's true personality.
They might help with styling but the job role is beyond this as they combine fashion with psychology.
They adopt a holistic approach to offer lifetime solutions based on a client's lifestyle and personality.
Conclusion
To sum up, we can say that fashion stylists take their clients' fashion and style up a notch but image consultants do that and much more. They help people grow personally and professionally. So, as you try your luck in the industry, we are sure that the information provided in the article will help you make the right career choices.
Image Consultant vs Fashion Stylist Infographic: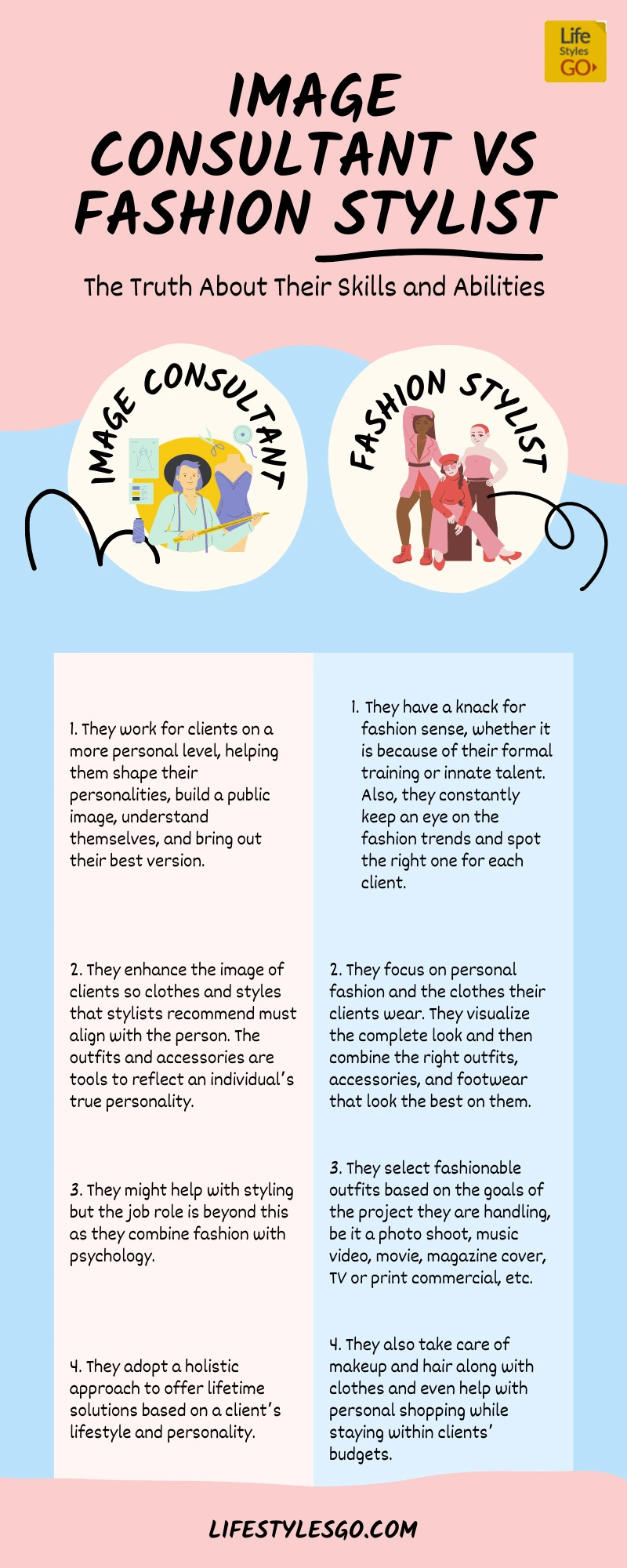 Author Bio: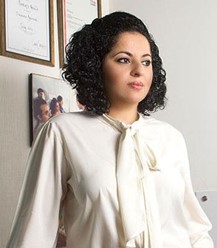 Suman Agarwal is award-winning image management professional. She has helped students, home-makers, women on sabbatical as well as people seeking second career alternatives to explore Image Management and Soft Skill Training as a vibrant professional choice. She frequently writes blog posts about the urgent need for image consulting professionals and soft skill trainers in the 21st century and loves guiding people in exploring lucrative career options. Write to her at sumanagarwal@imageconsultinginstitute.com to seek advanced career guidance.
Infographic Designer: Lifestylesgo Team
Photo by Gustavo Fring