Purchasing your teen's first automobile is one of the most significant milestones that any parent will recall. When your kid seeks to acquire their first automobile, you will likely experience a mixture of pride, worry, or trepidation. Understanding how you can assist your child will allow you to make this transition as simple and secure as possible.
Create a Budget
Before deciding on a vehicle, you should do the arithmetic and discuss with your teenager how much your family can afford to spend on a car. Be careful to incorporate insurance and maintenance expenditures into your budget estimates.
Keeping your kid engaged in the financial element of the car-buying process can help shift their initial inclination. To target a luxury vehicle and give them a more realistic expectation—something that the family budget will undoubtedly benefit from, especially in the current economic climate.
Examine the Budget
As this is your child's first automobile, they are likely ignorant of some of the expenses associated with vehicle ownership. It would help if you described both the initial and continuing expenses of automobile ownership. Create a budget based on variables such as fuel economy and insurance costs for various automobiles.
Your child's auto loan financing application may increase their chances of approval and enable them to qualify for a cheaper interest rate since your credit history is also examined.
It is typical for parents to contribute to their child's first automobile. If you choose to financially assist your kid, you will also need to explore your financing alternatives for the original purchase and continuing upkeep. While you may work with a dealership to acquire a vehicle, it is common for individuals to seek personal loans to cover any costly repairs. Personal loans enable you to borrow a specified amount of money at a generally fixed interest rate and repay it in monthly payments over a predetermined term.
Select a Vehicle with a Low Insurance Group
Vehicles with potent engines, classified in higher insurance classes and linked with a higher accident risk, often have higher rates.
There are, however, other elements that might help reduce your insurance premium. An authorized alarm and immobilizer might trim a few pounds off your coverage, as could overnight parking off-road, preferably in a garage.
Test Drive the Car
It is usually a good idea to test drive a vehicle before purchasing it. Ensure that your youngster is comfortable with the vehicle they choose. It may seem impressive on the outside, but if it doesn't feel right while driving it, you may as well go on! If they want to purchase a car before passing their exam, they will not be allowed to test drive the vehicle themselves. Why don't you climb behind the wheel, put yourself in the mindset of a rookie driver, and explain the positives and negatives?
Before they go off on their new wheels, you should attempt to persuade your youngster to do routine maintenance on their vehicle.
Its most basic form is monitoring tire pressure and topping off fluids, such as windshield wash.
However, there is much more than they should be doing to maintain the roadworthiness and safety of their vehicle, provided they have not already delegated this responsibility to you.
Size
Too many passengers in a vehicle is a significant distraction. This is particularly true of men and their propensity for horseplay, and more so with men than women. The bigger the car, the more children can fit inside. A truck with a regular or extended-cab or a coupe with a restricted rear seat is a suitable option. Some SUVs are good for young drivers, while others have a very high center of gravity, causing them to oversteer in emergencies. Consider the item's tendency to roll over before making a purchase.
It will be crucial for you to guide your youngster through the car-buying process. They will likely begin their automobile search online, so it is essential to inform them what to watch out for. As an illustration, students should comprehend the distinctions between purchasing a vehicle from a dealer and privately.
Conclusion
If you're going to a car dealership, you should prepare them for what to expect. Ultimately, there's a good chance they'll already be fascinated with the car they negotiate for. It is essential to be willing to abandon a potential purchase if an acceptable agreement cannot be reached.
5 tips to Get Your Child a Car Without Spending much Infographic: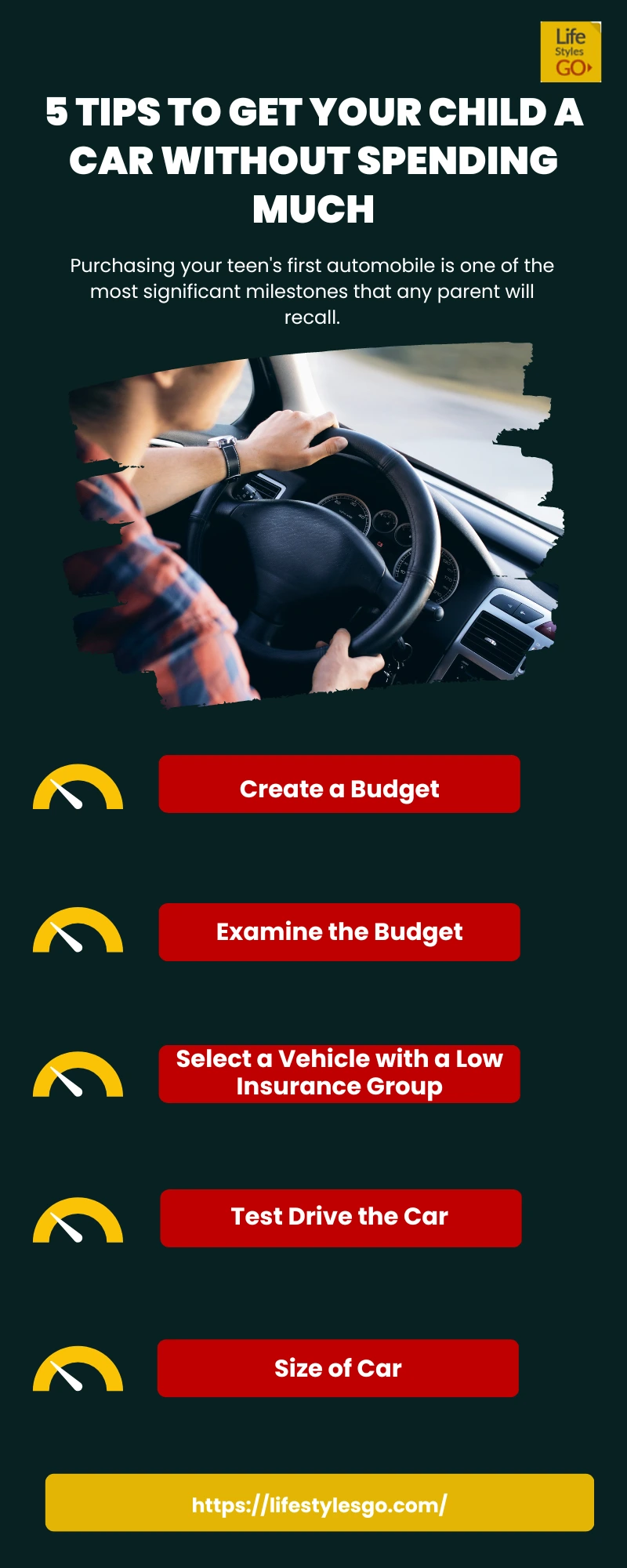 Author Bio:
Hannah Boothe is a freelance writer native to Northern California who spends her free time developing herself. Hannah enjoys the outdoors, she goes hiking whenever the weather permits and enjoys practicing yoga. She carves out time to journal and read whenever she can. She loves adventure and connecting with those around her.
Infographic Designer: Lifestylesgo Team
Photo by JESHOOTS.com