Minimalist wardrobe clothes will never go out of style since such clothes give you the morale to build up your desired capsule wardrobe. Purchasing outfits that can easily blend with any occasion is the first step toward creating a minimalist wardrobe. Below are some amazing pieces that you should contemplate adding to your wardrobe
1. High Waist Trousers
As a lady, a pair of high waist trousers is an item you shouldn't miss in your wardrobe. The trousers will give you the elegant and classy feel you require during any season. High waist trousers blend well on any occasion hence escalating your confidence level.
Ensure you choose a high waist trouser that befits your shape and size. The material of your high waist trouser should be comfortable enough regardless of the season. Choose a color that will easily blend well with your surroundings and any occasion. If you are an outdoor person, a high waist jean is the best option to contemplate.
2. Leather Handbag
You may have several handbags in your wardrobe but investing in a leather handbag is a sartorial choice. Consider a leather handbag that is medium-sized and features a classic shape. These handbags are ideal for any location ranging from dinner to office dates.
Even though leather handbags are already populated the market, you should take your time and choose one that pleases you. A designer leather handbag can be ideal if you are looking for a high durability level product. If you are looking for a classic leather handbag, consider purchasing one made from pebbled leather.
3. Roll-neck Sweater
This is an ideal outfit for your minimalist wardrobe. Roll-neck sweaters can be worn alone to provide you with warmth during the night. During the summer, roll-neck sweaters blend well with official skirts or trousers.
4. Leggings
Leggings are comfortable outfits for ladies, more so when exercising and jogging. They are comfy and feature a casual appearance. Chelsea boots and leggings can be a great casual outfit for a summer afternoon.
5. Warm Blazer
Some evenings may get chilly, thus bringing the need to wear warm outfits. Investing in a warm blazer is a great move in a minimalist wardrobe. You should choose a blazer made from cotton or any other material that will keep you warm even at the slightest temperature change.
The sleeves of the blazer should be long enough to cover your arms. The blazers come in different styles and sizes, but it is advisable to choose a size that you won't overgrow within a short duration. Pay keen attention to whether the blazer has sufficient pockets for you to store some of your belongings.
6. White Shirt
A white shirt can match any other outfit present in your minimalist wardrobe. It is ideal for both casual and official occasions. Look for a shirt that can be easily ironed if you have an official occasion. On the other hand, the shirt should be fitting.
7. Half-Zip Sweaters
The Half-zip sweaters are mainly made of cotton material to keep you warm. They aren't as heavy as the warm blazers, but they are ideal for chilly afternoons and evenings. These sweaters can be worn with ankle boots, jeans, or even a camel coat while going on a date with your friends or family.
Maintaining your Minimalist Wardrobe
You should regularly donate or sell your unwanted clothes to declutter space for newer clothes. You should also regularly check any clothes you may have overgrown or pieces that no longer spark joy. You can try and sell your clothes or simply donate them.
Repair and Mend
Wearing an outfit with a hole or losing stitches can ruin your look. You should immediately mend any tiny holes you notice on your clothes. You can do the mending yourself or hire a professional tailor to do it for you.
Enhance versatility
You should maintain versatility when shopping for your outfits. Your minimalist wardrobe outfits should suit any occasion with ease.
Final Thought
Always take your time while shopping for your outfits to ensure you choose quality products. Strive to stick to your budget when shopping and declutter old clothes you no longer use or need. Your clothes should match your personality and style.
7 Items You Need in Every Minimalist Wardrobe Infographic: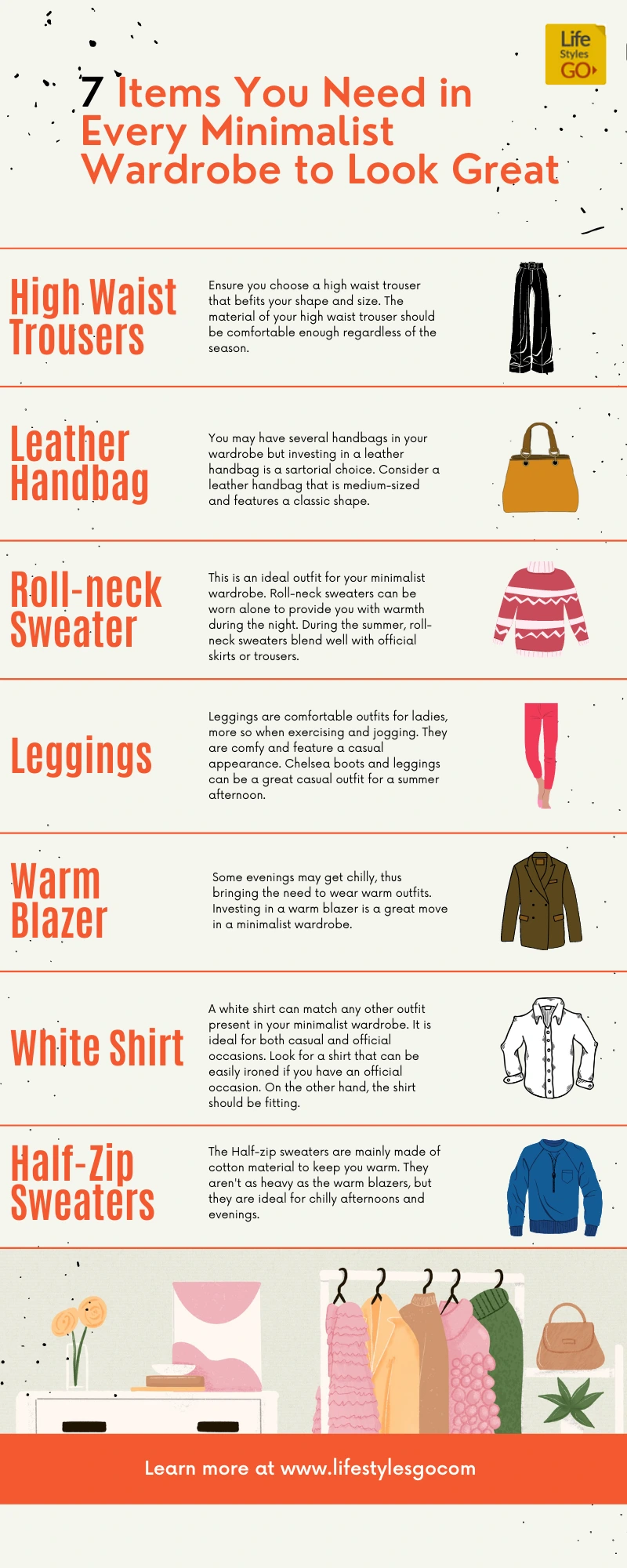 Photo by Victoria Borodinova