Fun Meal Ideas for Summer: Although it's hot and humid, summertime is loved by many revelers. This season is characterized by plenty of sunshine to enjoy the outdoors and endless beach time. However, you will need a fresh and light meal with brimming flavors to replenish your body at the end of the day. Summer get-togethers need to take after a rainbow on your plate. They should be refreshingly delicious and full of vibrant colors without forgoing the nutrition and health aspect. Discover the fun and sought-after meal ideas for summer that most people turn to for gatherings during the summer below.
1. Ranch Burgers
If you are searching for something unique for your evening grilling get-together, a ranch burger should be your go-to option. These burgers are not your ordinary burgers, as they are delicious. Preparing them is also a breeze. The extra special sauce, cheddar cheese, and ranch mix set these burgers a class above the rest. While the ingredients are simple, the flavor combination is astonishing.
2. Shrimp Zoodles
Zoodles or zucchini noodles are nutritious and delicious pasta alternatives. Use butter and garlic to coat these green swirls and load them with shrimp for an ultimate healthy meal. The best thing about zoodles is that they are keto-friendly, low-carb, and insanely tasty. Preparing them also takes a few minutes. If you plan to maintain a healthy eating habit and weight throughout the summer, here are helpful keto meal plan ideas.
3. Stuffed Zucchini
Stuffed zucchini is delicious, rich, and healthy. It is also easy to make and boot. Here is how the recipe works: First, take fresh zucchini and slice it into sizeable lengths. Second, use garlic, breadcrumbs, parmesan cheese, and butter to top the surface. Afterward, bake the zucchini until the breadcrumbs and cheese turn into a golden crisp crust. This meal is drooling, creamy, and crunchy.
4. Pulled Pork Sandwiches
A ton of pulled pork sandwich recipes dominate the internet, but this is the simplest as it only requires two ingredients. You only need barbecue sauce, pork shoulder, and water to prepare a perfectly flavored and tender pulled pork. Combine this alluring pulled pork with cheese and mac to get an impressive dish.
5. Beef Stir Fry
Stir-fry is delicious, but have you tried the special beef stir-fry combined with teriyaki sauce? If not, you need to give it a shot. This beef stir-fry is filled with super tender teriyaki beef, bell peppers, and broccoli. It is also nutritious, simple, tasty, and takes the slightest time to prepare.
6. Chicken Fajitas as Meal Ideas for Summer
Why not prepare chicken fajitas for a summer gathering if you love Mexican food? This Mexican meal is adored for a good reason. A single dish has all the goodness of chicken, tortilla, onions, and bell peppers. Can anyone say no to such a meal? Go crazy on the toppings if you wish to by adding guacamole, cheese, pico de gallo, beans, and sour cream.
7. Pork Chops as Meal Ideas for Summer
Pork chops have several nutritional benefits. Most pork fanatics love the crispy boneless pork chops prepared in garlic butter. This meal is garlicky, tender, juicy, and buttery. Boneless pork chops deserve to be on this list as they only take approximately 30 minutes to prepare.
8. Chicken Broccoli Casserole
This recipe has crisp broccoli, pasta, juicy chicken, and lots of cheese in a single breath-taking casserole. Serve this easy-breezy and cheesy casserole with salad and dinner rolls for an unforgettable party meal idea for summer. It perfectly suits a hungry gathering.
9. Chicken Wraps as Meal Ideas for Summer
Chicken wraps are nutritious, delicious, and easy to prepare. It is one of the best party meal ideas for summer to prepare after spending a lot of time outdoors. You only need chicken, avocado slices, cheese, bacon, and lettuce.
Think about these ingredients in one tasty wrap. What's more, these wraps include an ultra-rich ranch dressing. If you think this recipe demands time and effort, you are misguided. It only takes about 15 minutes, and they are ready for serving.
What are the Best Party Meal Ideas for Summer?
Using a simple, light, and fresh recipe is the key to keeping your cool when hosting a summer get-together. Even if you cannot eat in the open air, several dishes offer the much-desired fresh summer flavors to your table instantly. As you have seen above, the time offers you a chance to try amazing meal ideas for summer with family and friends.
9 Fun Meal Ideas for Summer Infographic: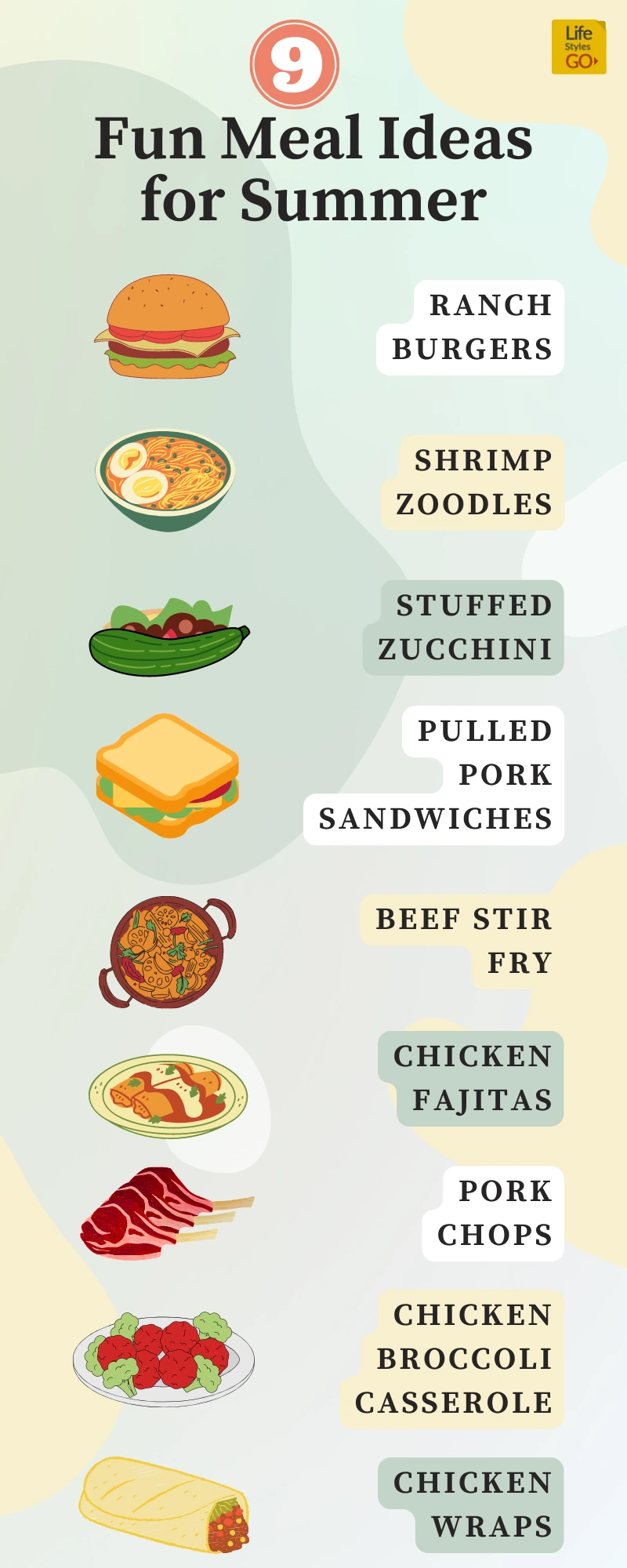 Photo by from PxHere