A robust family is made of people who value one another and appreciate what you have. It shows that you do not take each other for granted. Similarly, positive interaction with your family is a sturdy measure against mental illness. Here are seven ways to show appreciation to your family;
Spare Some Time to Express Appreciation to your Family
It's one of the easiest ways to express appreciation to your family. Time is important to all of us, and it is becoming a scarce and precious asset, something you can never get again. It's simple to go days without talking to or seeing our families, but do not let yourself get into that routine.
If nothing else, you may stop by and visit, which every family enjoys. Offering someone attention makes your family feel important, appreciated, and cherished, and what better way to express gratitude than to inculcate these sentiments in them? Therefore, call, drive over, or ask your family for supper.
Create an Activity to Express Appreciation to your Family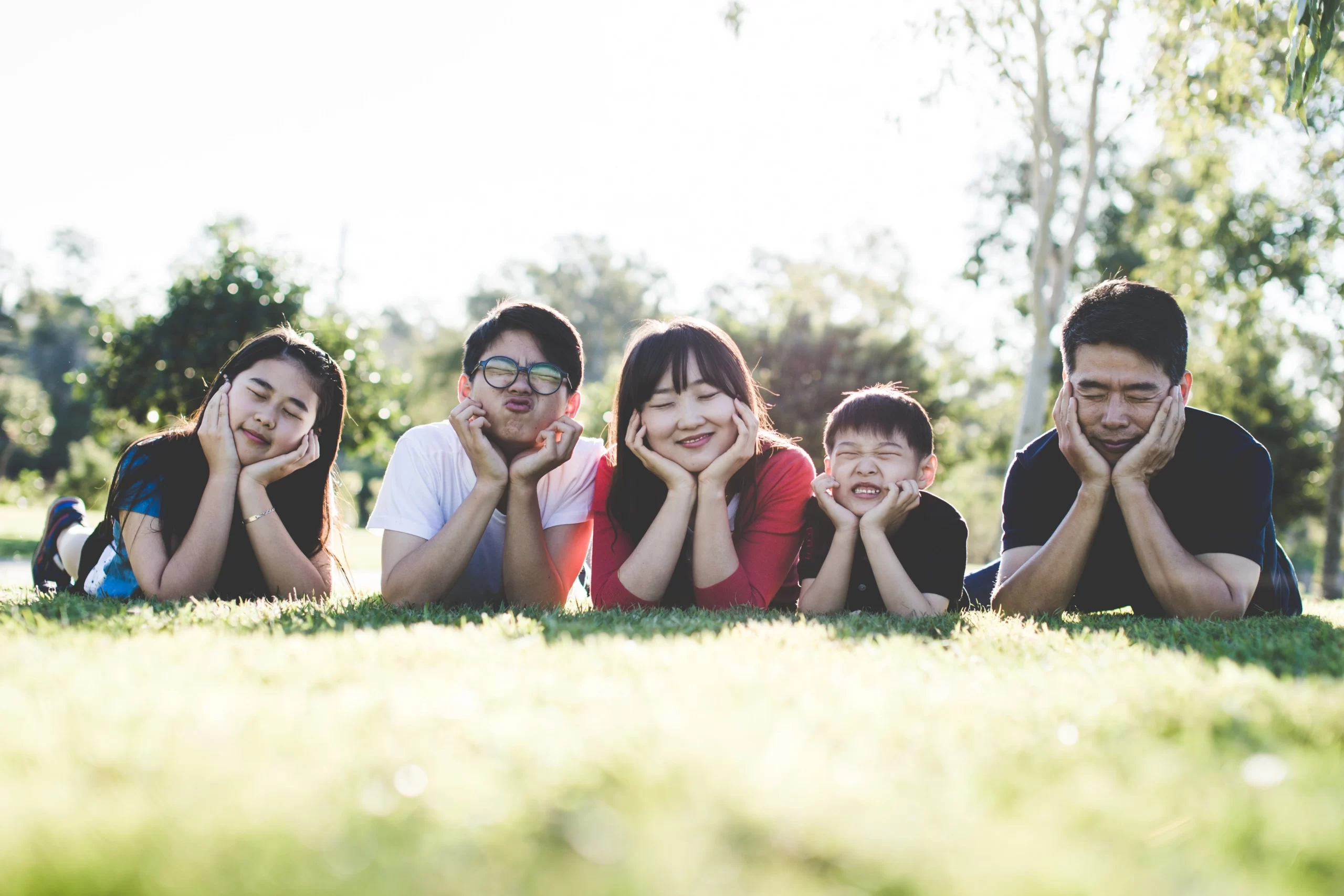 Participating in an activity with your family makes them feel special and valued. You may organize a picnic or take them out to supper or the movies so they can spend much time with you and possibly their grandkids. Make sure it's something they will appreciate—show how well you know your family by planning an excursion they will enjoy and cherish. Experiential gifts may be pretty valuable.
Hosting someone helps them feel recognized, which many families struggle with now that their members have grown and gone out. Many parents believe their children love them, yet our hectic schedules provide us with so little time to spend together that it might seem as if you forgot they exist.
Purchase a Present for Them
It is just a way of life. Gifting is associated with birthdays, anniversaries, marriages, religious holidays, housewarmings, births, and every other special event you can think of. Buying gifts from one member to another is a kind of generosity and love that people have practiced for years. But, sometimes buying gifts for another family member can be hard.
For example, if you are having a hard time picking out a gift for your brother you can search for "gifts for brother" to help give you ideas of what to give him. Pick something that will show him how much you care.
Another reason you do it is that gift-giving is one of the most acceptable ways to strengthen family bonds. When gifting your family, you know that the act of providing a present demonstrates to the receiver that you appreciate the connection, which helps to establish a good tie.
Keep in Mind the Holidays
While you have many colleagues with whom to enjoy the joy of the holidays, your family is also ready for you. Do not overlook them. Remember all of your birthdays, Father's Day and Mother's Days, and other important occasions. You may join them in celebrating anniversaries and other important events. Thank them with a card or a text message for all they do for you.
Inform How You Feel About Them
Simply stating "I love and appreciate you" is the best approach to show your appreciation to your family. Allowing your family to know you appreciate their influence in your life will brighten their day. Not the most sentimental person? Try writing them a touching letter.
Assist Your Parents with Housework
Some parents react better to good works, and the greatest way to show them your appreciation is to go out and do something for them. If you have kids, enlist their assistance as well. For a day, cut the grass on their lawn, tidy their house, or look after their pets. Permit them time to unwind while you complete the tasks they have been doing for you for so a while.
Better still, surprise them. Allow your parents to return home to discover your completed labor, mainly if they are the kind to criticize or oppose when others offer to assist. For some families, actions speak louder, so find out what they like and offer it to them to express your appreciation to your family.
Prepare Them a Delicious Meal
Preparing a meal for your family shows how much you care for them. Family dinners have a tremendous amount of views to promote healthy eating conditions. When you gather for a meal with your family members, you get a fantastic chance to interact and learn through a shared experience. Eating together allows you to converse about the past days, exchange fascinating concepts and opinions, and build happy memories linked with years of eating healthy. Eating and cooking meals together may help teach children about family traditions and beliefs, new foods and taste pairings, food preparation skills, and better-eating concepts.
In Summary
Love of family is crucial because they love you selflessly, and, in most situations, you can always count on them to be around for you in highs and lows. Despite the busy schedule, always create time and appreciate them.
How to Show Your Appreciation to Your Family in 7 Easy Steps Infographic: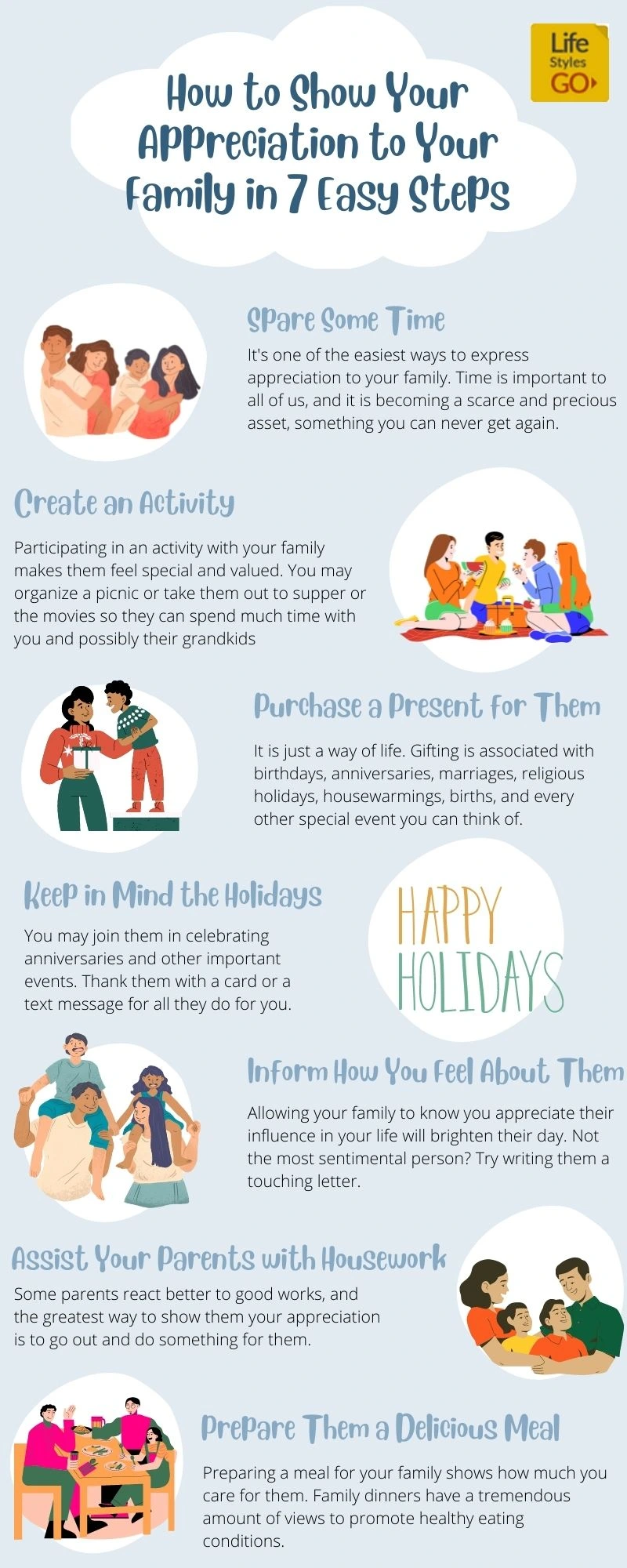 Photo by pexels.com