Revamp Your Wardrobe on a Budget: Chances are, you have a few favorite outfits you wear all the time. When you feel good in a piece of clothing, it just makes sense to reach for it time and again. However, everyone has their limits. Eventually, you want to branch out and add some variety to the clothes you wear. Unfortunately, your bank account might not allow you to splurge on a closet full of clothes right now. No worries. Just follow these suggestions on how to revamp your wardrobe on a budget, and you can spice things up for next to nothing.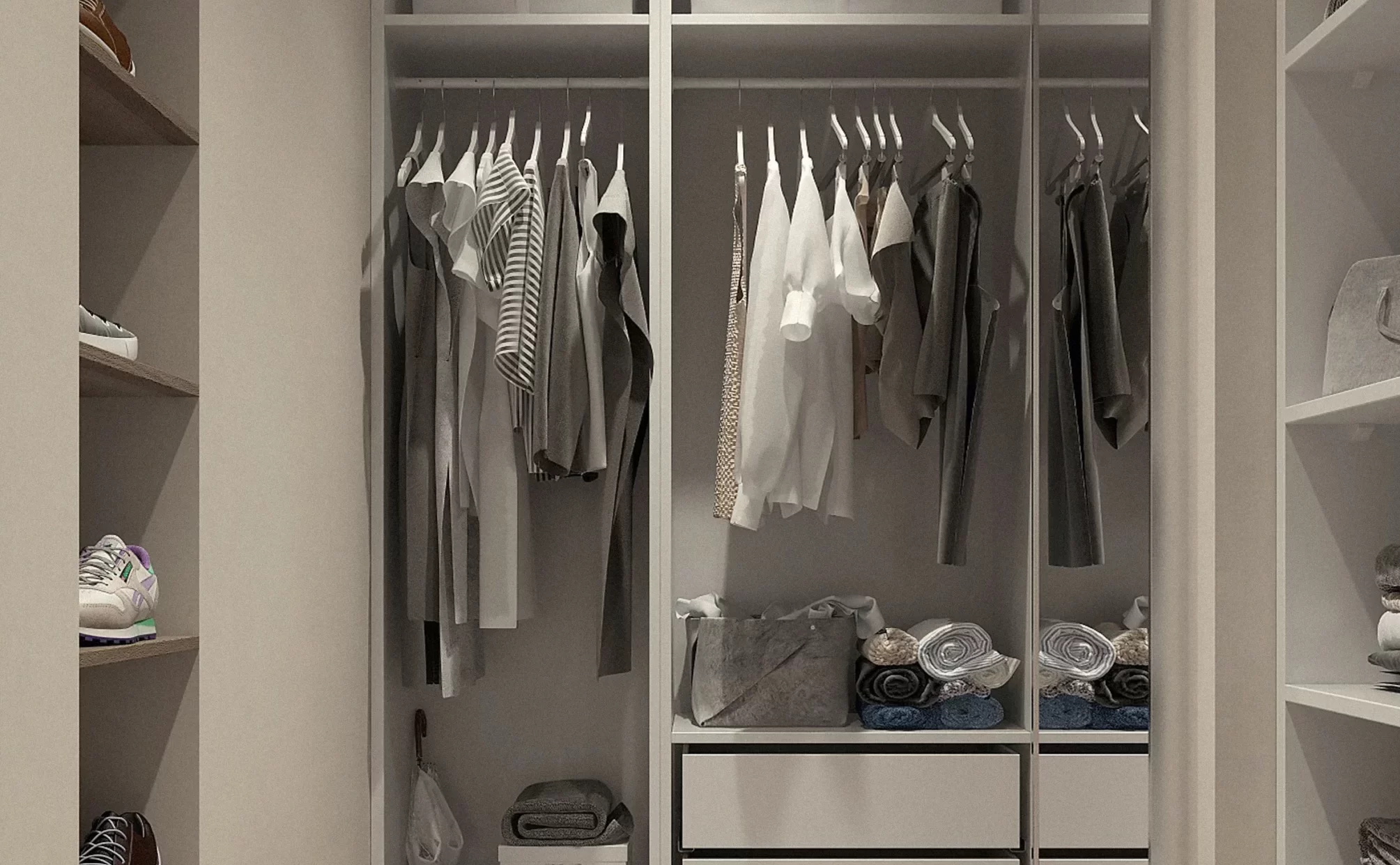 1. Purge What You Don't Wear
First of all, you want to start by getting rid of the items you no longer wear. Clearing out the old will allow you to look at your wardrobe with fresh eyes and make room so you can update your wardrobe on the cheap. Toss anything that's stained or worn thin. Create a pile of things that are in good condition, but may no longer fit your body or your aesthetic. Just because you won't wear them doesn't mean someone else can't get good use from your castaways. You can donate this pile to a thrift store or, better yet, sell them. Then, use the profits to buy wardrobe pieces you love.
2. Invest in Staple Pieces
If you are going to spend money on clothes, start by investing in staple pieces. These are basics that can be worn in a variety of ways. Opt for neutral colors you can mix and match with your existing wardrobe. Choose shapes that flatter your body and make you feel confident. These types of clothes are often referred to as a "capsule wardrobe." They form the foundation for accessories and make choosing what to wear a breeze.
3. Opt for Versatility
When shopping on a budget, a good strategy is to look for items that are versatile. Consider pieces that can be dressed up or down so that your dollar goes further. For instance, a pair of black dress pants can be worn to the office paired with a sophisticated blazer. After work, just switch your blouse and blazer combo for a slouchy, off-the-shoulder sweater in a bold color. Then, head out to meet your friends for dinner and drinks. These types of pieces provide you with tons of outfit ideas for half the cash.
4. Optimize with Layering
Another way to get more bang for your buck is to find ways to layer your apparel. Layering lets you wear clothing items all year long. Those shorts you love for warmer weather can be paired with tights and boots in the fall and winter. Add a cardigan to your favorite basic outfit and it becomes new. Layering is a skill you can truly use to your advantage.
5. Modify What You Have
Take another look at the clothes in your closet. Are there any ways that some of these pieces can be styled or modified into something new? Maybe you don't love the way a certain pair of pants gets stuck on your heel when you walk. No problem. Turn them into shorts or capri pants. This type of alteration is fairly simple and shouldn't cost you an arm and a leg with a talented tailor. Add embellishments like appliques, patches, or lace to give old apparel new life.
6. Leverage Accessories
You don't have to buy new clothes to add flair to your wardrobe. Accessories are your friend. Pair a bold statement necklace with a plain white t-shirt, and you're sure to get tons of compliments. A bright patterned scarf can be added to revamp a tired look. You're sure to get noticed when you switch out your purse for one you haven't used in ages. Invest in unique pieces like sunset jewelry that reflect your personality and things that you love. Accessories will help you create a look that stands out.
Keep these tips in mind when you want to shake things up in your closet. Revamping your wardrobe doesn't have to be expensive. You can shop in thrift stores or online marketplaces. You may even consider hosting a clothing swap with your friends or community members. A little creativity can go a long way when it comes to building a clothing collection you love.
How to Revamp Your Wardrobe on a Budget in 6 Easy Steps Infographic: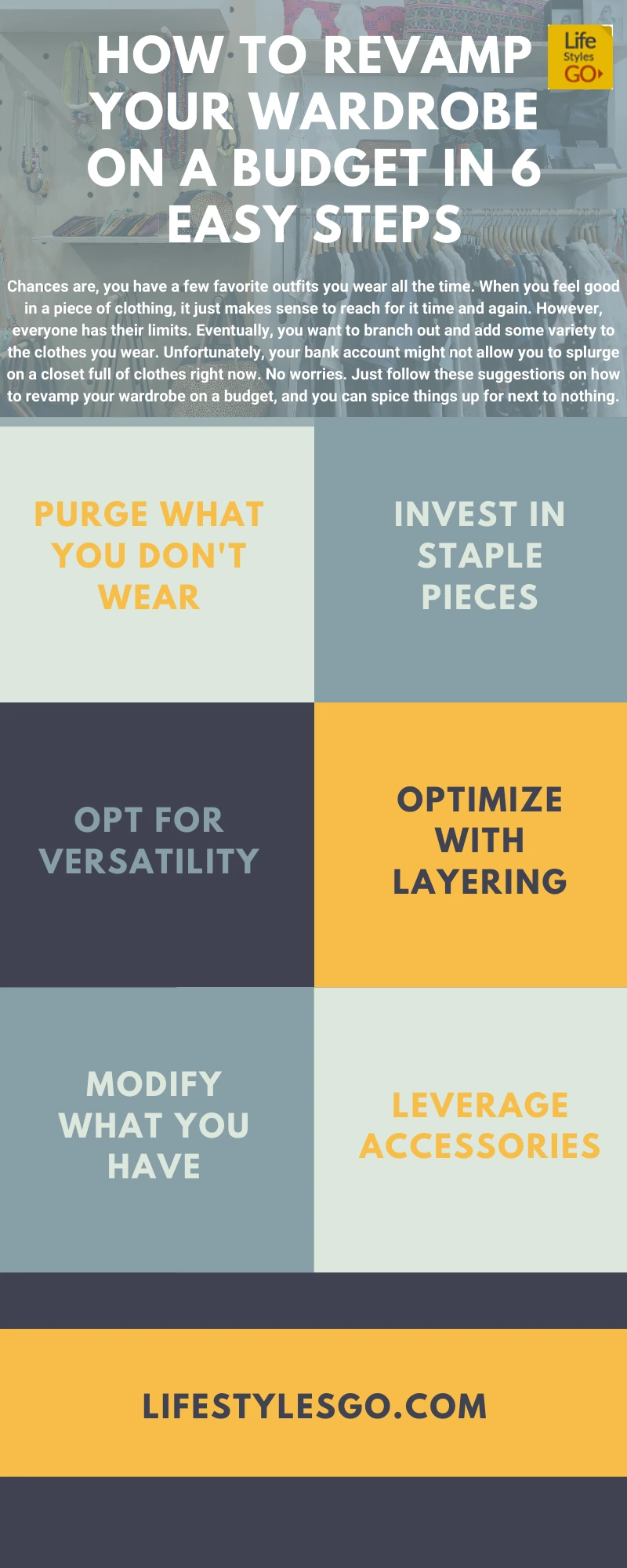 Author Bio:
Sierra Powell graduated from the University of Oklahoma with a major in Mass Communications and a minor in Writing. She's passionate about writing, reading, and learning. When she's not writing, she loves to cook, sew, and go hiking with her dogs.
Infographic Designer: Lifestylesgo Team
Photo by: Ksenia Chernaya and Victoria Borodinova