If you're ready to enjoy the warmer weather in your home's backyard, you can take a few steps to prepare your patio or garden for the summer. These steps include clearing away dead leaves and drooping branches, seeding and mowing your lawn, and planning out how to irrigate your yard. For instance, you may choose to install a drip irrigation system, or you can turn on a sprinkler with a hose.
1. Revamp your patio
If you've never spent a summer outdoors, you might be in for a surprise this year. After a long, cold winter, your garden or patio may have begun to show signs of wear and tear. Check for cracks, twisting, or splitting. If wood is used, take down splintered pieces and hammer in new nails.
2. Clean your pool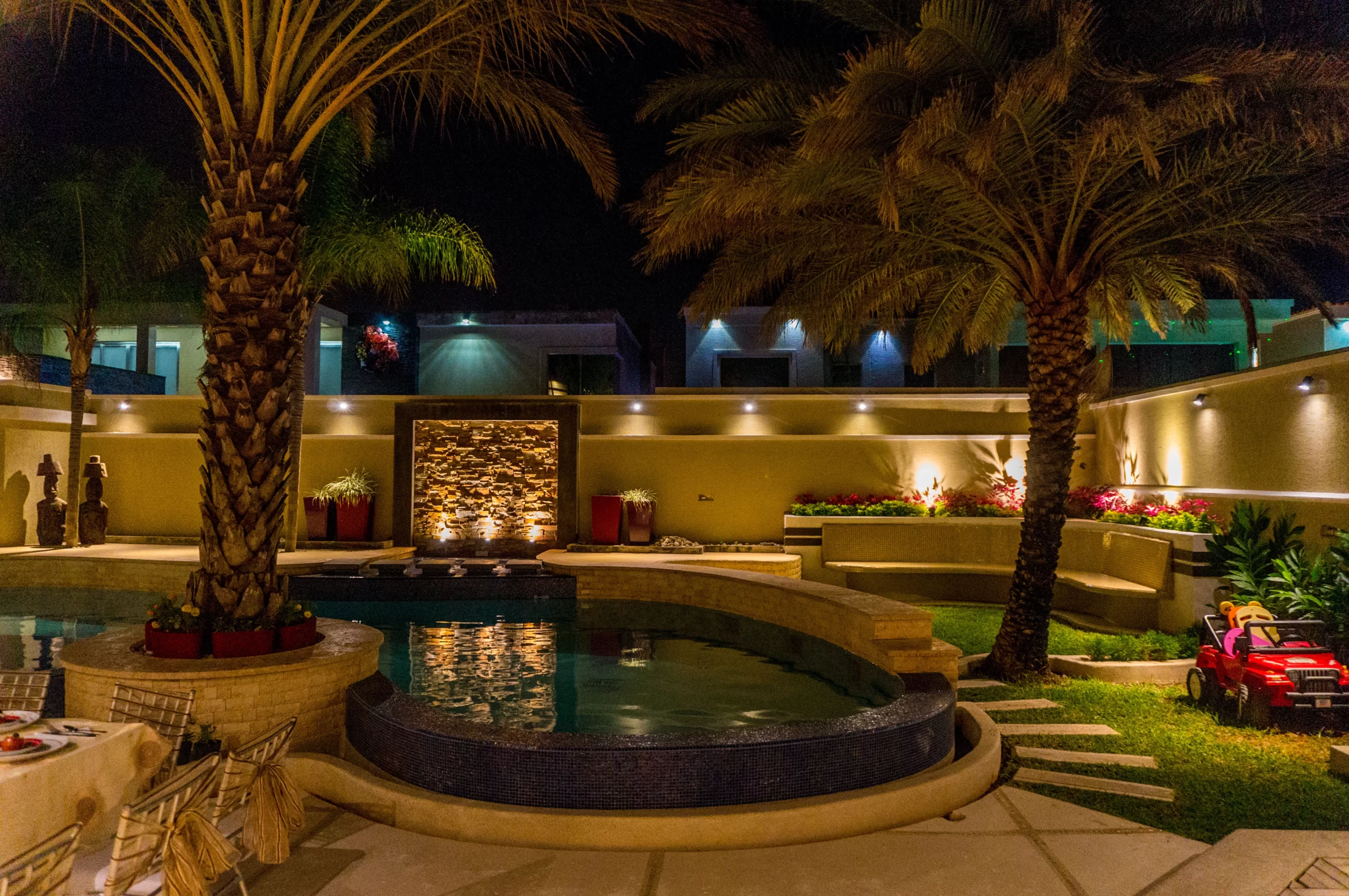 When spring and summer roll around, it's time to get your home's backyard pool ready for summer use. You should start by draining the water, if possible. Also, purchase a pool cleaner, available at most pool supply stores and even your local Walmart.
Use this cleaner to clean the waterline and pool furniture. You will also need to install a pool fence if you have children or pets in your home, which will help avoid accidents. If your home has an above-ground pool, make sure to drain it during the winter months.
You can purchase an automatic vacuum that runs over the pool's surface like a floor. Remember to clean the filter regularly. It will help the water circulate better and reduce the need for chemicals.
Lastly, make sure to check the water levels. A filtration system will help keep the water clean and eliminate algae and other debris that may harm your pool.
3. Add lighting to the home's backyard
When planning for a home's backyard makeover, consider lighting options. Outdoor lighting can be both functional and decorative. Install task lighting near a grill or favorite chair. Accent lighting can be used in landscaping to add interest, and candles or globe lights can provide ambiance.
Adding accent lighting to your backyard landscaping can provide a cozy ambiance. Adding fun features to your home's backyard will help it become a fun space for summer evenings.
4. Mulch your garden
The summer heat can dry out the soil in your garden. Consider mulching your soil if you've decided to plant a garden in your home's backyard this summer. Mulch adds moisture to the soil and helps prevent weeds. It also blocks light and prevents weeds from sprouting.
Mulch can be applied to your lawn, shrubs, and flowers to create an attractive and uniform appearance. It will also improve your plants generally. It's a great way to add color and rhythm to your garden.
To start mulching your home's backyard, remove any weeds and clean the beds thoroughly. Next, spread mulch evenly on the soil. Please don't overdo it! Avoid suffocating your plants by spreading the mulch too densely and too quickly.
According to Home Depot, spreading mulch over an area is much easier if you work in small sections. Just leave enough space between the plants to prevent water-logging and soil compaction.
5. Pruning shrubs
Summer is a great time to prune your shrubs. The simplest way to prune a shrub is to remove about one-third of its branch. When pruning a shrub, make sure to remove only the interior branches. Be careful not to shear off the entire plant's exterior because you can ruin it.
Instead, prune the shrub to a shape that maximizes display. It would help if you pruned spring-blooming shrubs after they bloom. You will encourage the plant to send out new growth by cutting off giant stems.
Remove the rest of the stems to shape the shrub and shorten it. For best results, use hand pruners; hedge shears are not appropriate. Spring-flowering shrubs should be pruned after blooming, giving the plants time to grow new growth.
Conclusion
Preparing your yard for summer means making it ready to entertain. Whether hosting barbecues or simply lounging by the pool, your backyard is a prime location to host a get-together. However, to maximize the use of your yard, you need to make sure it looks its best. Following these tips can help you prepare your yard for summer, and it also helps you enjoy your home's backyard even more.
Frequently asked questions (FAQs):
1. What are some games to play in your backyard?
There are many games to play in your backyard, depending on what you and your family enjoy. Some of the more popular games include:
Spikeball

Cornhole
Kan Jam
Ladder Toss
Rubber Horseshoes
Ring Toss
Chess and Checkers
Giant Tic-Tac-Toe
Giant Connect Four
Giant Jenga
Bocce Ball
Inflatable Bowling
Tetherball
Croquet
Badminton
Lawn Darts/Jarts
Giant Wooden Yard Dice
Kickball
Flickin' Chicken
Trackball
INFOGRAPHIC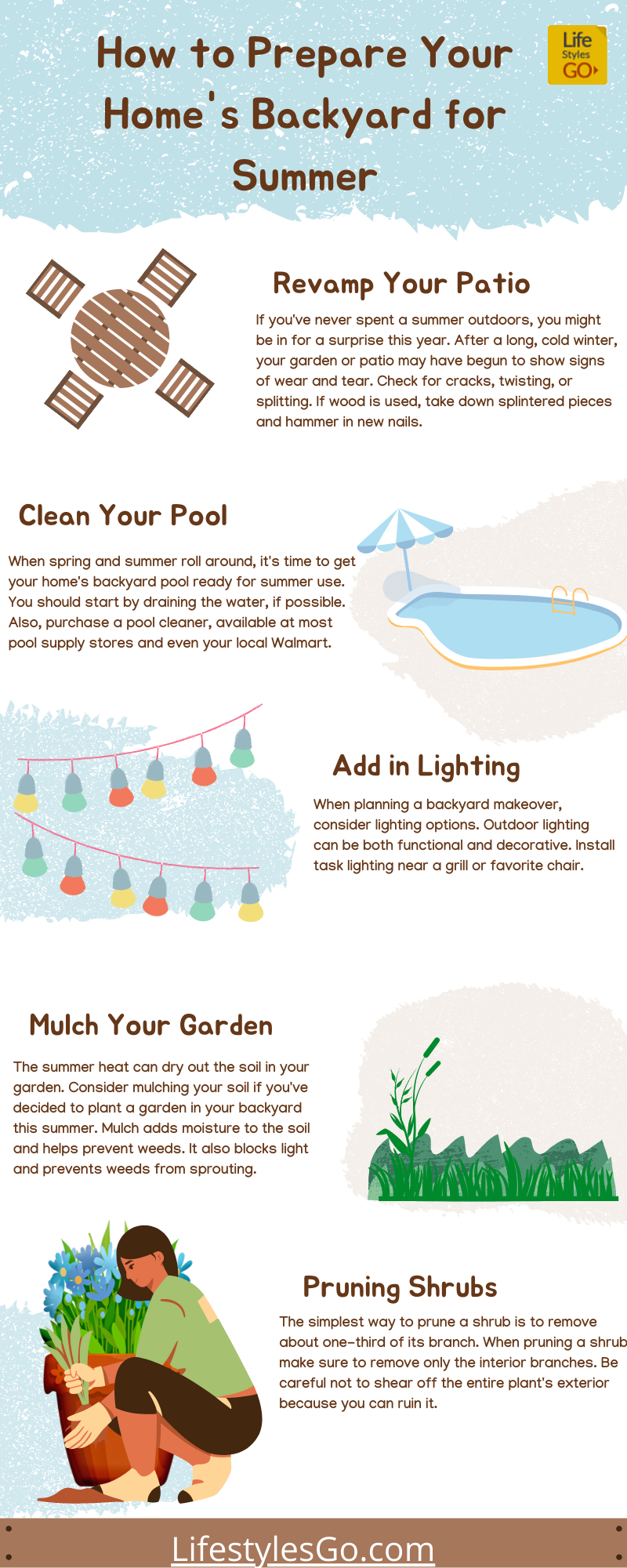 Photo by PxHere