Fashion statements are often made with accessories. Luxury accessories are the spice you need to boost basic styles. Luxury items are more than worth it when you want to have the extra oomph and set yourself apart.
These five luxury accessories will do precisely that.
1. Earrings
Women's designer earrings are undoubtedly a must-have in any fashion enthusiast's jewelry collection. Why? Because they are versatile: they can be worn day or night and dressed up with an evening outfit as well as dressed down during casual moments.
They are easy to wear. It takes no time to put on a pair of earrings, and you're out of the door looking fabulous. They can be worn day or night, dressed up or down in so many different ways that it is impossible to get bored of them.
Sparkly earrings look good no matter what you're wearing, so there's never a wrong time to wear them. Whether it's jeans and a t-shirt day at work or drinks after dinner, they'll always add that extra bit of glamor needed to take your outfit from zero stars (or one) into the five-plus territory. In short, they are the ultimate go-to accessory for any occasion.
2. Bracelets, Bangles, and Watches
Fun, colorful bracelets and bangles are a fabulous way to make a statement with your jewelry. Bangles can be worn alone or stacked and may also be paired with other bracelets for added allure.
While you can opt for traditional gold or silver bangles, consider adding some color to your outfit by choosing bright blue, red, purple, and green pieces. If you want an even bolder look, go for bangles with unique patterns, including animal prints or jeweled accents.
If you have small wrists, you should consider wearing thin bracelets instead of thick ones. If you have bigger wrists, thicker bracelets are more appropriate for you.
Watches are not only functional, but they also make great fashion statements. A watch is considered the ultimate accessory that defines who you are and how you want to be seen. It's an item that never goes out of style and will always be trendy.
3. Necklaces
A fantastic necklace is your greatest friend whether you want to dress up jeans and a t-shirt or give a favorite outfit a fresh new appearance.
The necklace can be as simple as a small pendant or a long beaded necklace. If you're looking for something more dramatic, consider wearing a statement necklace. These usually feature large stones or crystals and come in a variety of colors and designs.
Not only will the neckpiece make you feel better, but be sure you'll turn some heads along the way.
4. Handbags
Whether it's a purse with animal-print patterns, a chic clutch with snap closure, or a delightful handbag with buckles and zippers, there is something to say about the appeal of bags.
The handbag should complement your outfit, and there should be a balance between your clothing and purse colors.
A way to draw attention to your outfit is by wearing a brightly colored bag against neutral colors or pairing a neutral bag with colorful clothing. Another tip for finding the perfect purse is to choose one that suits your lifestyle.
Different styles, shapes, and sizes are available to match every lifestyle. Handbags are functional and fashionable and will help you stand out among the crowd.
5. A Luxury Scarf
A high-end scarf can turn a boring outfit into something special. Depending on the fabric and design, it can serve as a nice pop of color or add a little texture to an otherwise dull outfit.
For example, silk scarves are popular among men and women who want to dress up their business casual attire on the way to work or for special after-hours events.
A quality silk scarf is easy to wear, and it's a great way to look like you put in extra effort to look beautiful. You'll find the right piece to accessorize your outfit no matter where you're going or what you're doing.
So think outside the box, bend a few fashion rules, be creative, have fun, and figure out which luxury accessories go best with your clothing. You'll always feel your best in any outfit once you've experimented with your favorite luxury accessories.
Luxury Accessories that Will Spice Up any Outfit Infographic: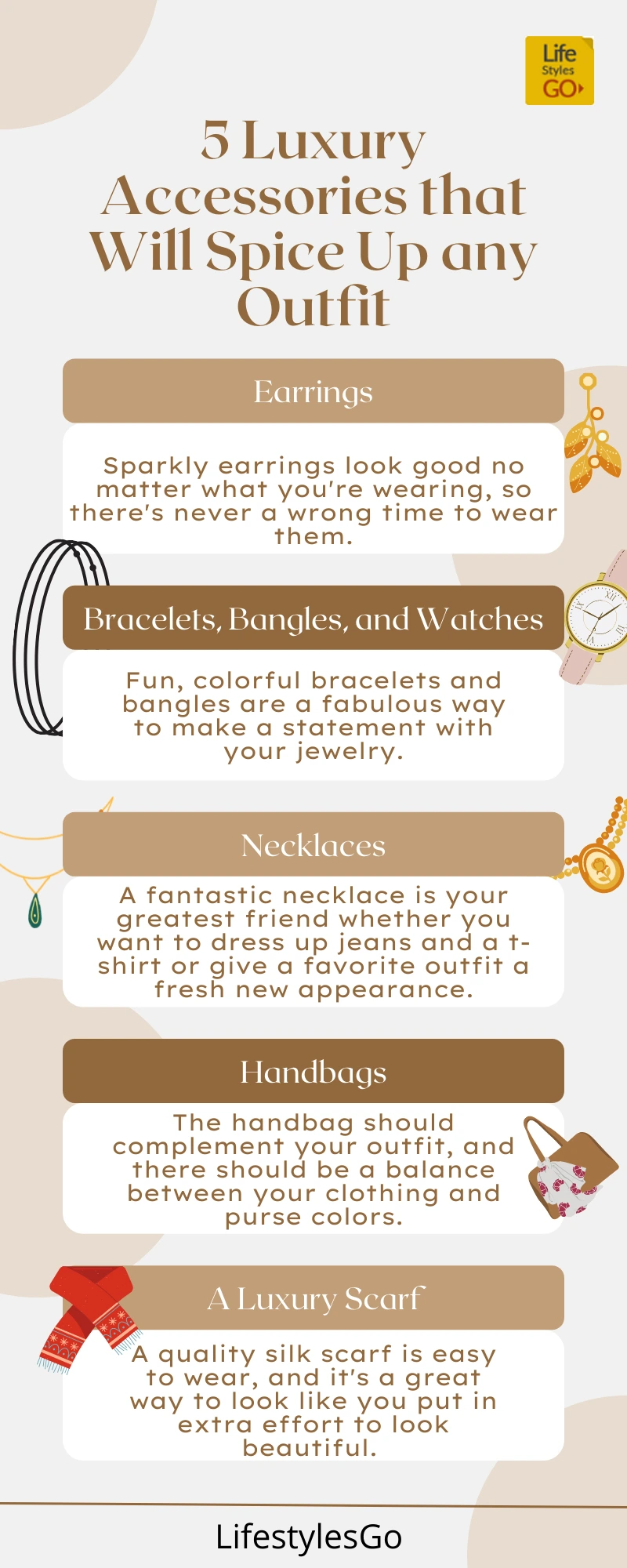 Photo by Lum3n