A perfect romantic dinner setting under the star-lit sky is all your partner, and you need to get away from the redundancy of life. After all, it's true: the end of a pandemic stricken world seems like a forlorn dream. It's been difficult, tiring, and torturous for all of us to navigate through unchartered waters. But at least, our hearts are still populated with love and romantic ideas for our panthers to cherish for life. We are hopeful and grabbing the silver line whenever needed. It is the best way to approach things in a positive manner.
So, as is a lover's duty to shower love and blessings upon their partners, we'll be helping you with some brilliant ideas. In particular, ideas related to a romantic dinner under a star-lit sky. We will, of course, do this by listing the most important ones below. Care to check out?
1. Get Ready to Set the Mood to Plan a Romantic Dinner
It is a well-established fact: our romantic gestures will fall flat if the surroundings do not match the vibe. Fortunately, you have the tar-lit sky to set the mood for you. The only exception is your romantic dinner arrangements, food, music, and decor choices. These are the areas you need to work on.
And we suggest that you begin by setting the table and a few chairs in your backyard or the front porch (you can pick the star-lit venue as per your convenience). As for a super cozy and romantic feel, you can also add a silhouette of white and pink decor with some fairy lights to top it all. While white plates, both small and big, will make up for an excellent spread on the table, a few scented candles will do wonders.
Rest assured, if you are looking to add flamboyancy to your date night, surround your dining space with planters and beautiful hanging lights. Trust me, the beauty of a starry night combined with artificial lights is all you need to complete the mood.
2. Let There Be Good Food on the Table
Now that you're done picturizing, planning, and setting a starry date night, the next big thing is food. It's the hero of your date night along with other side characters, but you can't go wrong here. If you're not a good cook, just pick up your phone and order mouth-watering pasta from an Italian restaurant in NY. Do not take chances here because you will definitely end up running the taste palettes of your loved one.
As for those who are great cooks with a genuine passion for cooking. Just make sure you incorporate a three-course meal with enough for both of you to relish. And don't forget to treat your partner with sweet items – a homemade sundance should do the trick!
3. Dress Up and Dance the Night Out
Don't forget to dress summery so that you can enjoy the night while feeling fashionable and comfortable in your skin. Just be sure to prepare a playlist you both like jamming on. And more importantly, enjoy the night away without having to worry about whether it will rain later during the night or not. If in case it does, it is always a good idea to check the weather updates beforehand.
Frequently Asked Questions (FAQs):
1. What are romantic foods?
There are many different types of foods that can be considered for romantic dinner, but some popular choices include romantic dinner at a fancy restaurant or preparing a romantic meal at home. Some people believe that spending time cooking and eating together is a symbol of love and commitment. Other popular romantic dinner foods include chocolates and flowers. Whatever your favorite type of food may be, make sure to enjoy it together as a way to show your partner how much you care.
2. How can I impress my wife?
There's no one-size-fits-all answer to this question, but some tips that may be helpful include:
Expressing your love for her in words and actions every day
Being attentive to her needs and taking care of her physically and emotionally
Being communicative and supportive during disagreements
ROMANTIC DINNER INFOGRAPHIC: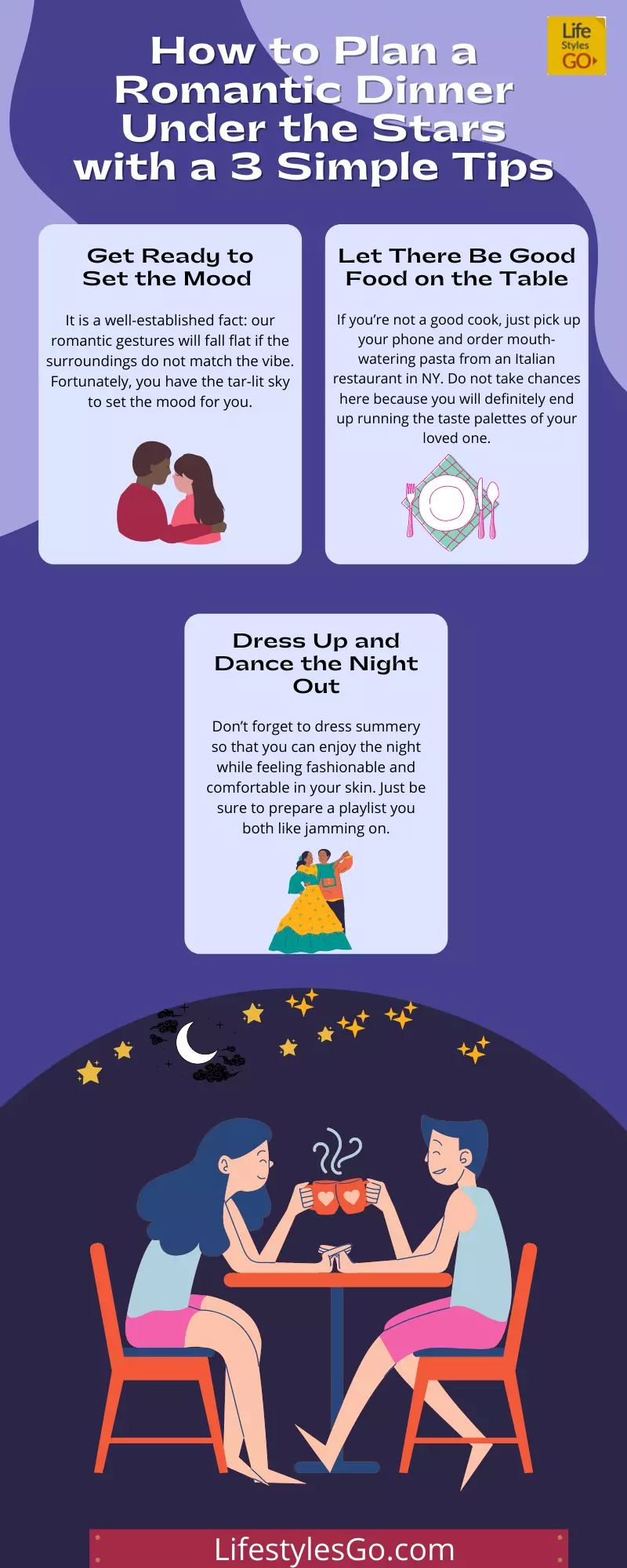 Photo by PxHere