Are you looking for new courses to learn online for free? Well, you are in the right place. We are sure that these online courses will help you to learn more new skills and courses. Here in this, we come up with all the courses related to IT, programming, fashion design, business, management, HR, digital marketing, design, and much more included.
Free Online Courses with Certificates 2022
1. Udemy
Udemy is the best and topmost online course learning platform by the amazing trainers & industry-specific experts who will teach or coach through this eLearning platform. The online courses and tutorials created by the trainers are fine-tuned, regularly updated, and highly rated.
Udemy also provides an extensive range of free courses. Hence, it proved a destination for the students and professionals to upgrade their skills for free and paid. From this Udemy, after completion of the course, you can download the certificate of completion.
What is the Price: Free + Paid
Available Courses: 1 lakh+ courses (around 1,000s – Free)
Udemy Certificate: For all courses – the certificate included
Here are some of the courses which are on Udemy,
personal development skills, blogging, programming, iOS, JAVA, AWS, social media marketing, mobile development, data science, software testing, software engineering, finance & accounting, IT & software, office productivity, and much more listed. All you want to do is begin the learning.
2. Lynda/LinkedIn Learning
Lynda.com is completely moved to LinkedIn Learning. It provides thousands of free and paid online courses to learn. As LinkedIn Learning is one of the topmost and most trusted platforms, it's been listed on the top.
LinkedIn Learning has the one which comes with the largest online video courses which are around 16,000+ courses available. These online courses have extremely engaged with videos, interactive lessons, quizzes, and a lot more. You can also continue on your mobiles, it is available for Android and iOS platforms to download.
So, with no doubt, you'll learn your desired courses online with LinkedIn Learning by starting a free. LinkedIn Learning is free for a 1-month trial with no commitments, any time you can able to cancel the subscription. If you want to try, then proceed to learn and add an extra skillset to your professional career.
What is the Price: 1-month free trial
Available Courses: 16,000+
LinkedIn Learning Certificate: For all courses – the free certificate included
In the trial period, you can take any online course listed in the LinkedIn learning courses library. You can able to cancel after learning. Find the courses below:
Cloud Computing, Data Science, DevOps, IT, Animation & Illustration, Graphic Design, Photography, Web Design, CAD, Video/ Photo Editing, Mobile/ App Development, HTML/ Java/ SQL, WordPress, Leadership & Management, Web/ Software Development, Project Management, Marketing, Finance & Accounting.
3. Alison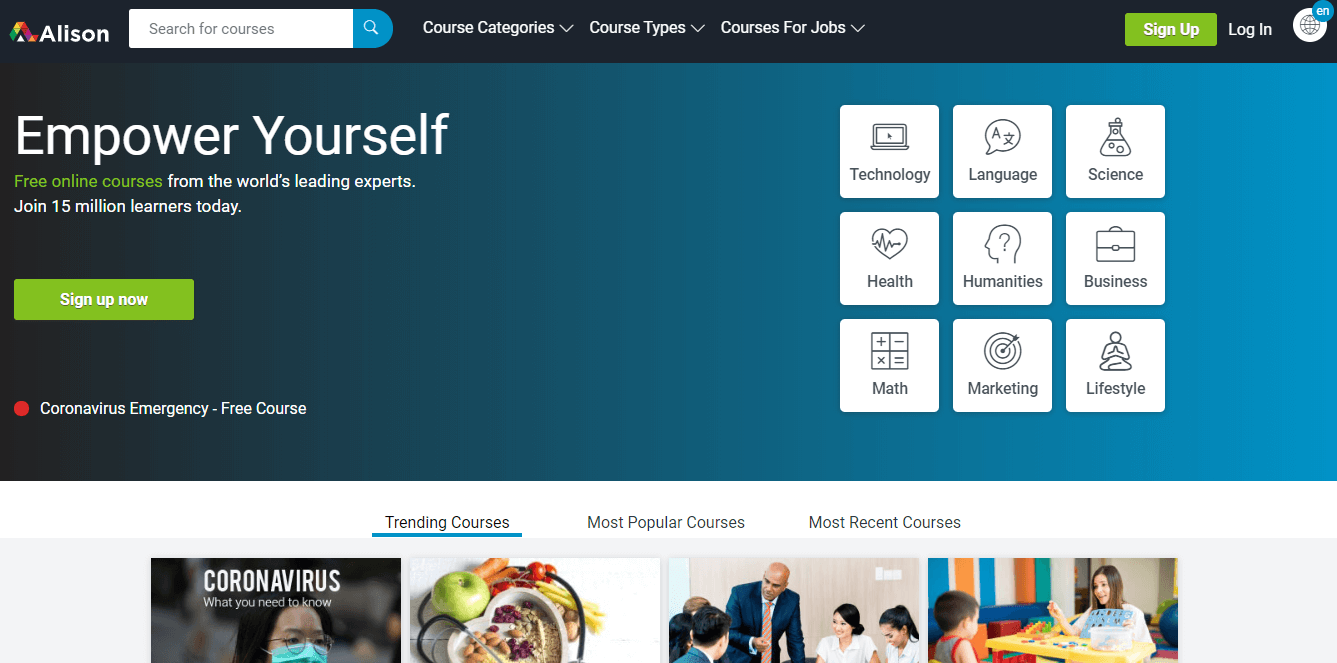 If you are looking to learn the critical expertise of individual concepts in the respective field, then this is the best platform. You can learn thousands of free courses through Alison's eLearning platform, from around 10 categories.
Here are some popular course categories – health, math, design, web development, humanities, science, marketing, lifestyle, IT, business, and much more! You can filter the options based on course type, & course level.
Learning through the Alison platform would be interactive and improve learning expertise.
What is the Price: Free
Available Courses: 1500+
Alison Certificate: For some courses – the free certificate included
4. Pluralsight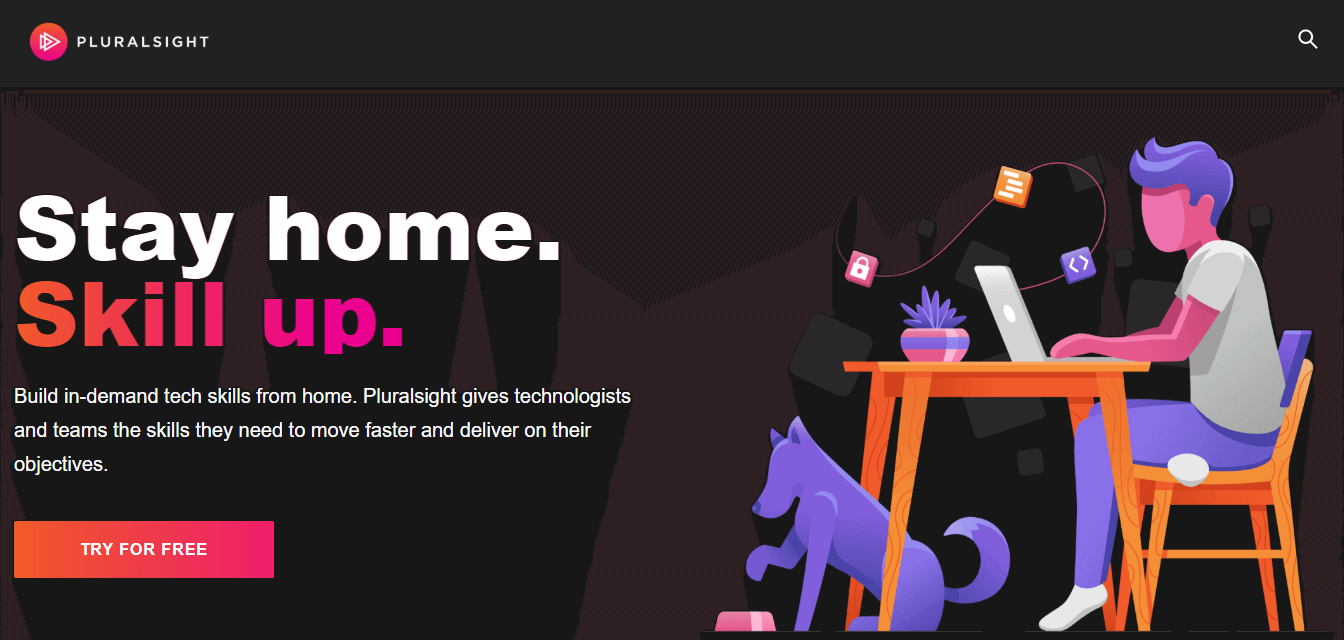 Pluralsight is the learning platform for developers. Most of the courses are related to Software Development, IT Ops, Data Professional, Architecture & Construction, Manufacturing & Design, Cloud Computing, Machine Learning / AI, Business Professional Information & Cyber Security, and Creative Professional.
Pluralsight is the best one if you are looking to transcend your online technical skills. It has partnered with top companies like Microsoft, Google, Oracle, Adobe, unity, and Stack overflow.
What is the Price: Free trial for 10 days
Available Courses: 1400+
Pluralsight Certificate: For all courses – the free certificate included
[ Suggested Read: Cyber Security — Advancing through AI ]
5. Google Digital Garage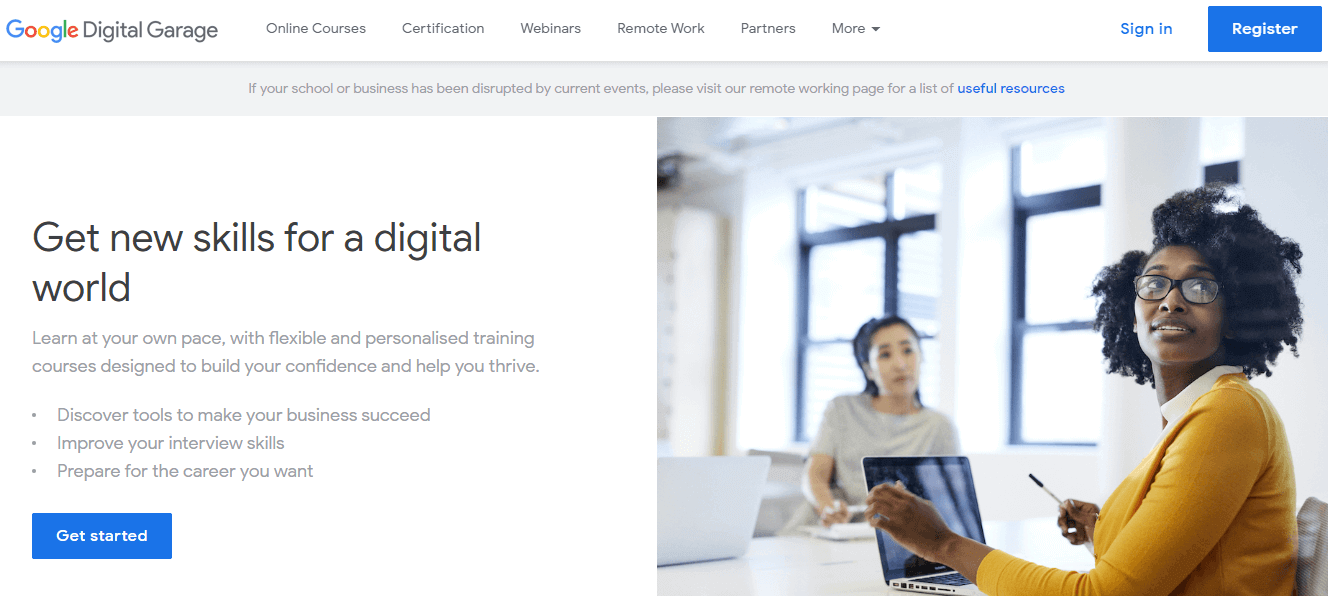 Next on the list of online courses is Google's Digital Garage. It mainly provides the courses with certification for Digital Marketing, Big Data, Machine Learning, AI, Productivity, Business Security, Business Communication, Social psychology, and Google Cloud Platform Graphic Design.
After taking Course completion, users can receive an accredited certificate from Google in a downloadable format. Also, you can add this skill to your resume under the skills section.
While taking these courses you'll get to interact with them and be very eager to learn more in this regard.
One thing that is perfect with this Google Digital Garage platform is that you can be able to access all the courses, and modules free of cost. It also offers unlimited access to all the course videos, while some of the other e-learning platforms don't.
What is the Price: Completely Free
Available Courses: 125+
Google Digital Garage Certificate: For some courses – the free certificate included
6. Coursera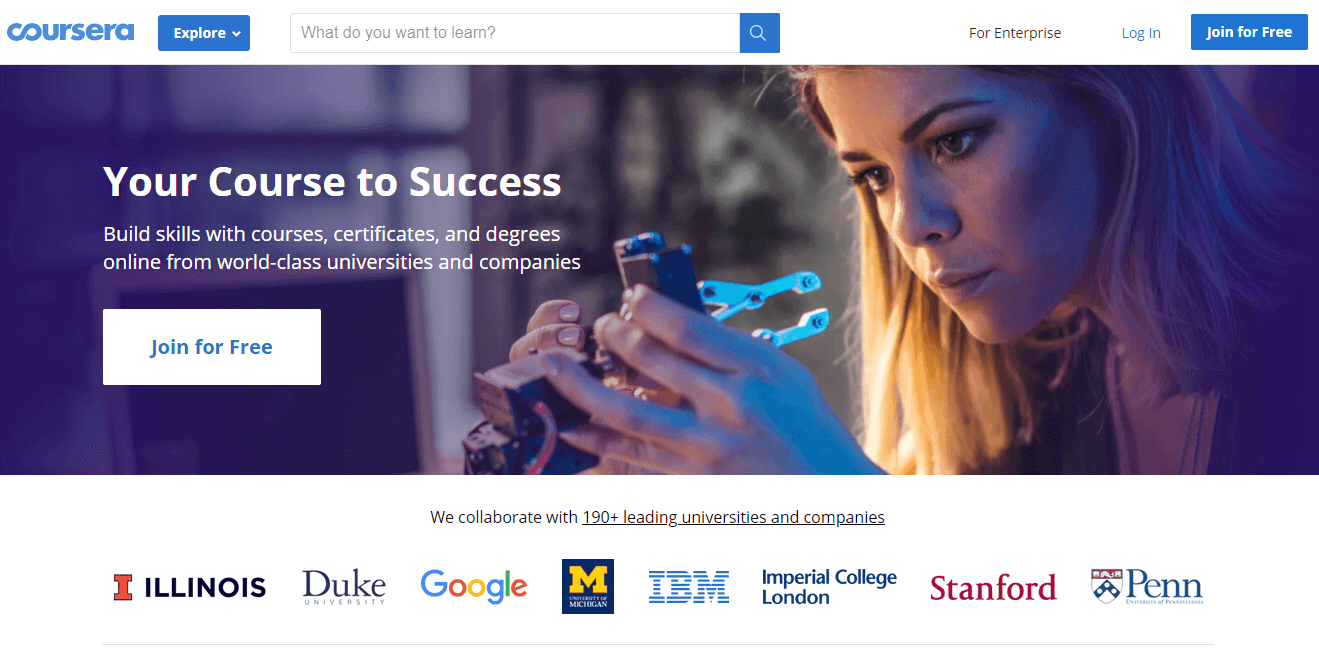 Coursera has released free courses to help people to learn more skills and better utilize the COVID-19 lockdown time by staying in their homes and staying safe. For this, Coursera has joined with the leading global universities & launched about 100 free courses.
Some of the courses include Computer Science, Health, Personal Development, Data Science, Languages, Business, and more. Some of the universities providing courses including Indian School of Business, Duke University, John Hopkins, Princeton, Yonsei, and much more are on the list.
You can learn an additional skill with this Coursera on every course
Take a look at quick courses, and make use of it for free
7. SkillShare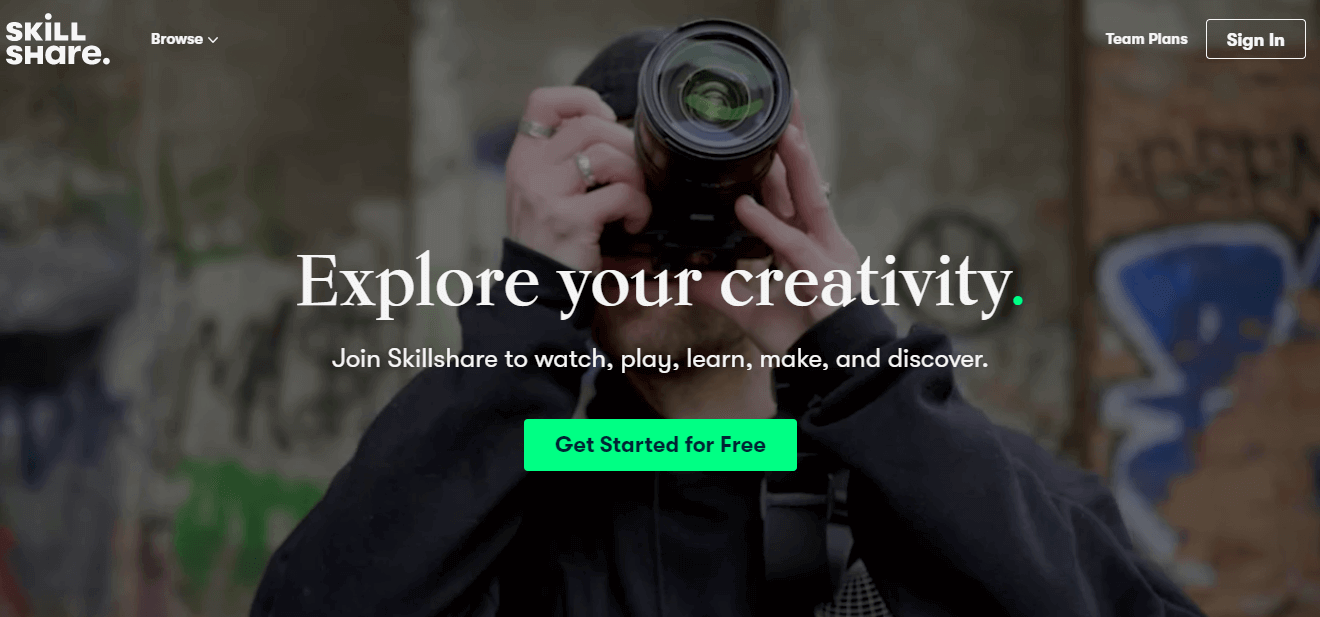 Well, the next online learning platform on the list is Skillshare. It is one of the largest famous as it has a big number of courses. With this course, users will get the benefit of learning is – 2 month free trial with no burdens.
It doesn't provide the certificate for the courses. That is a little shame, compared to other eLearning platforms. As every user will desire to take the course with a certificate included. Unfortunately, skillshare doesn't.
What is the Price: 2 Months Free Trial
Available Courses: 10,000+
Skillshare Certificate: No certificate included
Here are some courses SkillShare includes:
HTML, 3D Printing, UX, JavaScript, Creative Writing, DSLR Photography, Becoming a Freelancer, Instagram Marketing, Personal Branding, Social Media Advertising, Drawing, Presentation Essentials, Logo Design, and more.
[ Suggested Read: How to Become a Fashion Designer At a Young Age ]
8. Udacity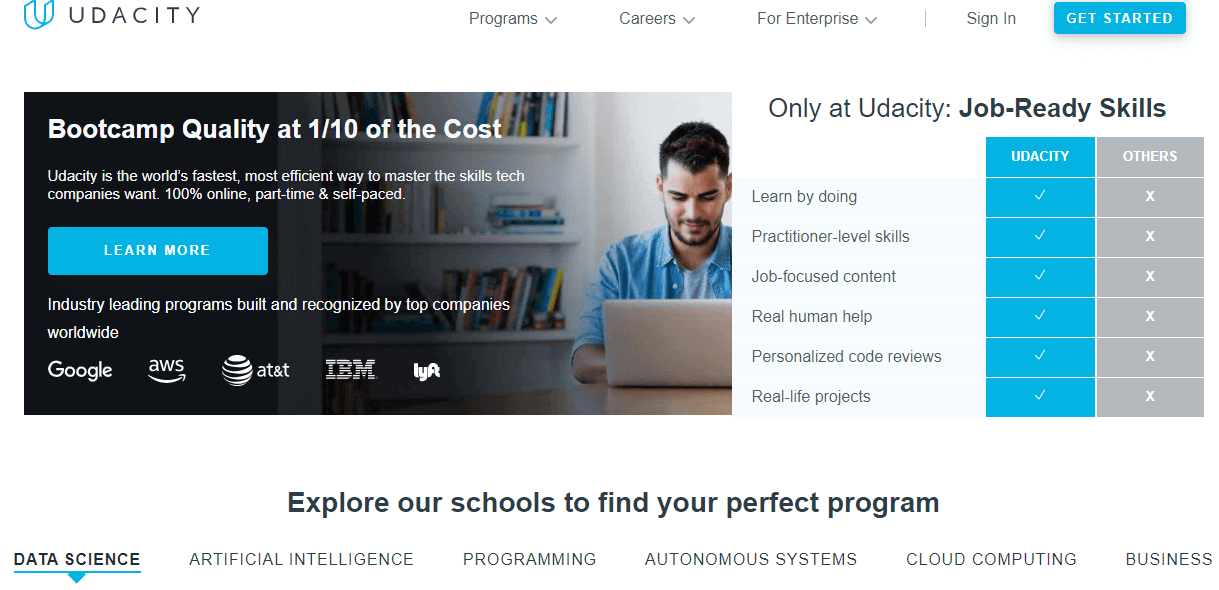 Udacity – The best source for learning the latest technology course including Programming, Artificial Intelligence, Digital Marketing, Dev Ops, Self-driving car, Web Development, and more.
It provides more number of resources to learn courses online for free. But, to get the certification, enrollment in the course with a certain price is included.
Udacity is free if you are interested in learning and gaining knowledge.
What is the Price: Free + Paid
Available Courses: 200+
Udacity Certificate: No certificate included (only available for Nanodegrees)
9. Khan Academy
The aim of this non-profit online platform is, to provide free world-class education to the students. Khan Academy is mainly focused on science and maths. It also provides added tutors for the teachers and parents for brushing up on their knowledge. This is the best source if you are looking to fine-tune your knowledge in algebra, calculus, statistics, and more.
You can also learn on the go, by installing the app which is available on both Android and iOS platforms.
What is the Price: Free
Available Courses: 2000+
Khan Academy Certificate: No certificate included
[ Read: 10 Career Benefits of Doing an MBA Degree ]
10. Openlearning (University Quality Learning)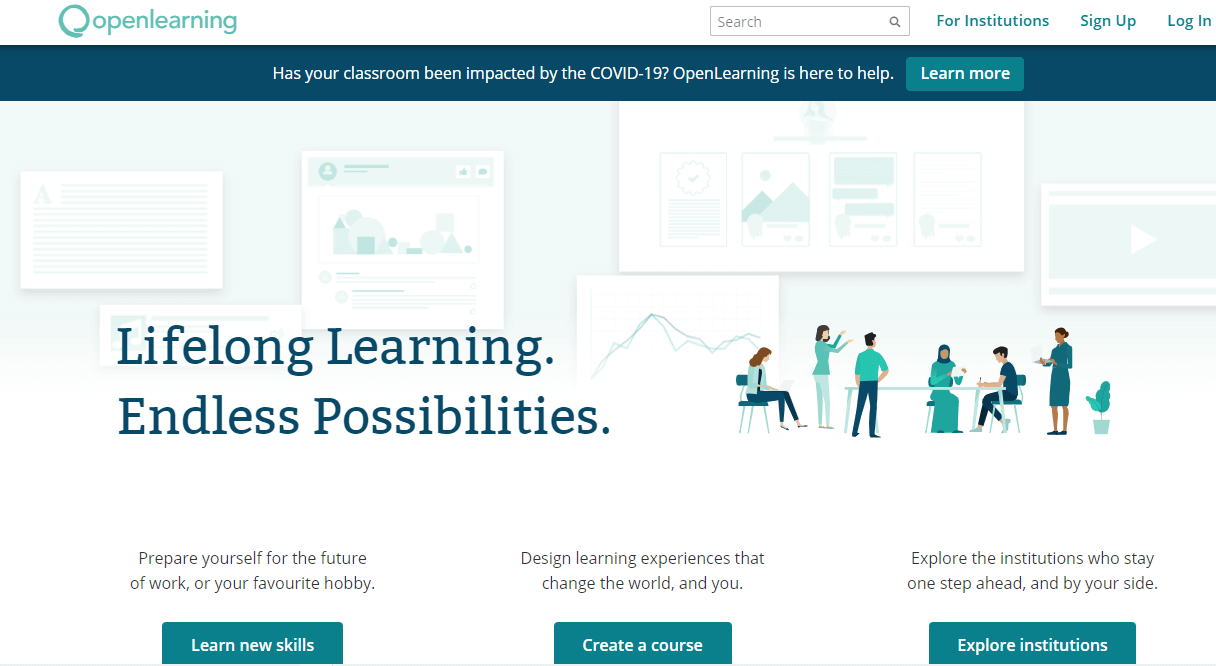 Openlearning provides mostly paid courses. Even though it has free courses available with third-party certification included.
Here are some topic courses listed below:
Design, Blockchain, Japanese, Ecotourism, AR & VR, Understanding Coffee, Physics, Cybersecurity, English, and more.
What is the Price: Free + Paid
Available Courses: 1300+
Openlearning Certificate: For some courses – free certificates included
---
Free Online Learning Due to Coronavirus(Updated)