Health is more important than anything in our lives, but nowadays in their busy schedules, people are forgetting about their health. Here I am going to help you people for your better future with top 10 Healthy Foods for Better Future.
Here are some of the Healthy Foods you should include in your regular basis.
Fruits, Nuts, Vegetables, Meat, Seafood, Grains, Fats, Tubers, Dairy, Oils etc.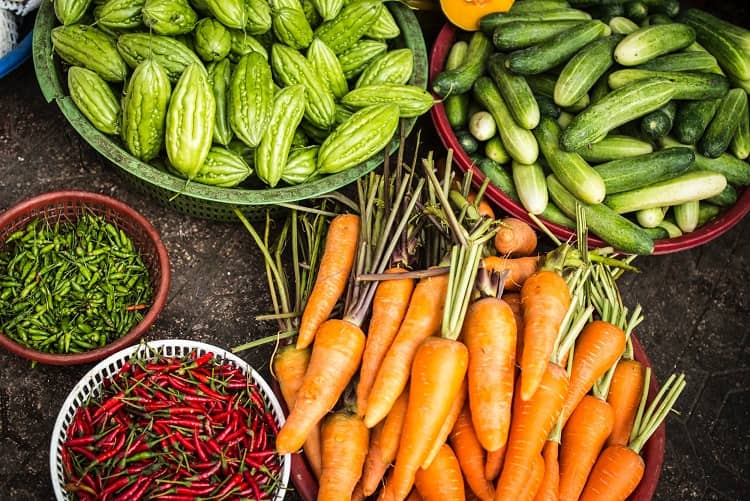 Fruits and Uses:
Apple
Apples are the good food for everyone, which are high in Fiber, Vitamin C and numerous antioxidants and low in calories,  these have a very less amount of sodium and no fat. In apple, it contains soluble fiber such as pectin, which limits the cholesterol from building up in blood vessels, which can help us to prevent the heart diseases.
It is very good to use as a snack item in between the meals for employees in offices or children in schools and at home place also.
Bananas
Bananas are the best potassium sources, in bananas, it contains Vitamin B6 & C, Fiber, Protein,  Magnesium and also some fat content. Depends on the body it can be used for weight gain and also for weight loss. Bananas contain just about 105 calories. The green bananas contain starch and resistant starch and it limits the blood sugar levels.
People who are looking to gain weight healthy they have to take bananas with buttermilk or can use it in milkshakes, within one week or 10 ten days will get better results with bananas.  
We can take bananas as a snack in between meals and also we can take after meals.
Blueberries
We won't get blueberries in all seasons, in end of summer will get these fruits. Blueberries are very good for health so don't miss to eat these in this season.
These fruits contain Calcium, Magnesium, Vitamin C. These fruits can help for Bone strength, Skin health,  Blood pressure, Cancer, protecting Heart health, managing Diabetes, weight loss and improving Mental health.
Oranges
One of the most popular healthy fruits is orange, Oranges are high in Vitamin C. This is the fruit which consumes both sweet and bitter tastes. One single orange can produce 116.2 percent of the daily value of Vitamin C, it plays an essential role in proper function of the healthy immune system. Vitamin C helps to reduce free radicals which cause damage to our DNA. It can also very good skin care, if you take oranges in your regular food you will get a great glowing skin.
It also useful for controls the blood sugar levels, keeps blood pressure under normal condition. Oranges contain D-limonene which plays a major role in preventing cancer like lung cancer and skin cancers. In Oranges, it also contains Vitamin A which is very good for your eyes. These are having higher juice content compared to other fruits. You can eat those directly or use it in juices also.
Nuts and Seeds
Nuts are against being high in fat and calories, Nuts and seeds will helpful for losing weight. These are having high nutrients as Magnesium and Vitamin E which we didn't get enough from other foods.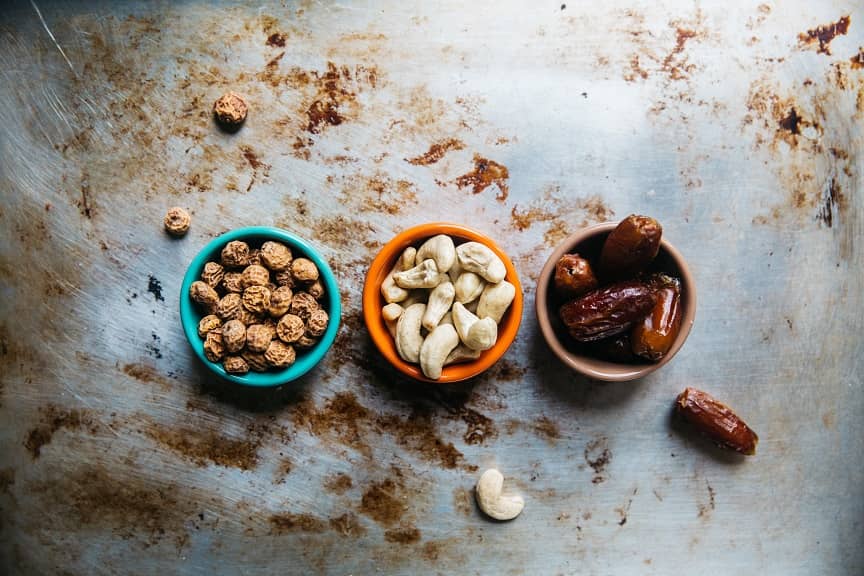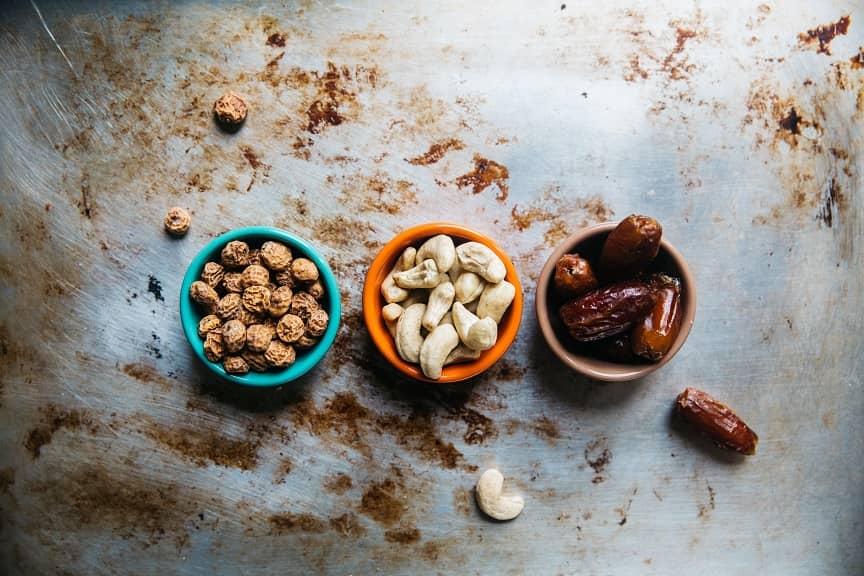 Almonds
While we are talking about nuts the first thing that came to our mind is Almonds, these are rich in nutrients such as Vitamin E, Magnesium, Calcium, Iron and Fiber. One important thing about almonds is nearly 10-15 percent of calories from almonds won't absorbed by our body. It is very good food for heart, bones and mainly for memory i.e., it will increase the memory power of our brain. We can eat it directly or sock it in water for a full night and eat it in the morning and also we can use it in some sweets etc.
Chia Seeds
Chia seeds are heavy nutrient foods on earth,  these contain fats, proteins, fiber, magnesium, manganese, phosphorus etc nutrients in it. These are very good for weight loss.
According to one Mexican research, it is known that these chia seeds are having natural phenolic (antioxidants) concentration, it can reduce up to 70 percent of the free radical activity. It can prevent skin damages and skin aging due to free radicals.
Peanuts
Peanuts are having protein, sugar, fiber, Omega-3, Omega-6, carbs etc. We can have these directly as raw peanuts or we can roast and have or either we can use peanut oils, peanut butter, peanut flour and also we can use these to make cakes, desserts, snacks etc.
Wheat Germ
Wheat germs are high in several nutrients, such as Vitamin E, Folic acid, Zinc, Magnesium, Phosphorus and also fatty alcohols and fatty acids. These are rich in fiber also. These will help in stabilizes blood sugar, improves heart health and if you are looking to gain weight, wheat germ is one of the best items to use in your food. This is not only useful for weight gain as it is also the best product to lose your weight also.
We can use these in regular meals it will help us for better healthy life.
Vegetables
Vegetables are the best nutrient foods, there are a lot of different types of vegetables are available for us.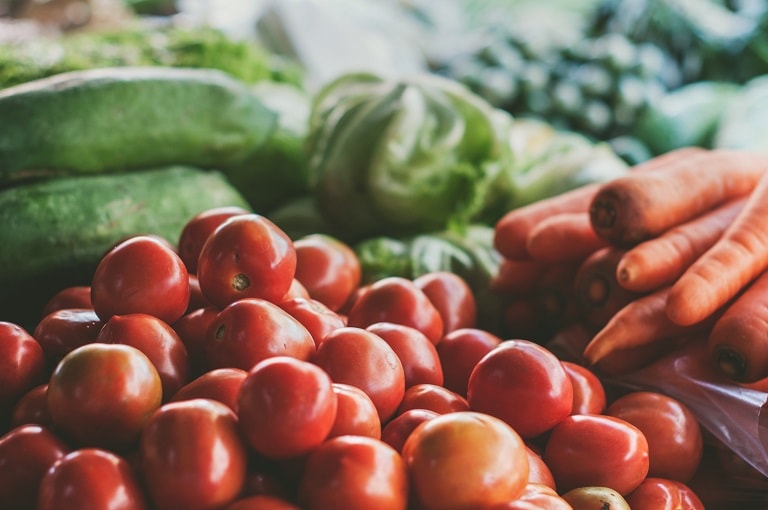 Bell Pepper
Bell pepper well known as capsicum, these can available in different colours. Bell peppers are poor in calories, one cup of bell pepper can give you just about 45 calories as well as the same one cup of bell pepper can give you Vitamin A and C in amount of more than a daily quota of your need. This Vitamin C can helps to improve the immune system of our body. Red bell peppers have phytochemicals and carotenoids, especially beta-carotene, which effuses you with antioxidants and anti-inflammatory. Which also contains Vitamin E it helps to keep hair and skin beautiful and youthful. The Vitamin B6 in it is good for the nervous system, these bell peppers are also good for healthy eyes.
Broccoli
Broccoli has many benefits for health. Basically, it is related to cruciferous vegetables. In one cup of broccoli, it contains As much Vitamin C as in an orange. It also contains Vitamin B1, B2, B3, B6, K, Iron, Potassium, Magnesium, and zinc.
Vitamin C and K are very good of folic acid, and also these good for heart health. Vitamin C helps the body to protect from free radicals and make skin healthy and glowing.
Carrots
Carrots are the very good vegetables for health, these are high in antioxidants and also we can have Vitamin A, K, C and B8 and also carrots consists iron, zinc, potassium, pantothenic acid, Manganese. These are very good for eyes, by eating carrots regularly we can reduce vision problems for eyes. These are also used for control blood pressure, improving immunity power of the body. And also carrots are the essential food which will help for a glowing skin.
Cucumber
Cucumbers are highly beneficial for health, mostly in summer, these have many benefits. These are highly made up of water and are high in nutrients. These are high in Vitamin A and C, folic acid, fiber, minerals, magnesium, and potassium. These will help us for our skin, cucumber is high in silica most of the doctors also suggest us to drink cucumber juice for healthier and brighten skin. These will help to control blood pressure, diabetes and also help to reduce the stones in kidneys.
Meat and Eggs
Generally, some people thought that meat is not good for health, but it's a bit wrong. In meat also we can get lots of healthy nutrients, proteins, and vitamins.
Chicken
In chicken it contains the high amount of proteins, these are less in fat and calories. Compared to red meat as beef etc white meat i.e., chicken is somewhat more good for health. These are the good energy food also.
Eggs
Eggs are the number one food for healthy weight gain and to improve bone strength. Eggs consist of Vitamin B2 and B12 and Calcium, these Vitamins helpful for improving energy and also improve red blood cells. The calcium in eggs will helpful for a great bone strength. It is good to eat boiled eggs regularly.
SeaFood
Seafood is not only tasty but also very healthy, there are lots of seafood we can find. These are high in Vitamin A and D, Omega-3 fatty acids, these are high in nutrients which are very useful for our body. Fish oils are also very good for our health.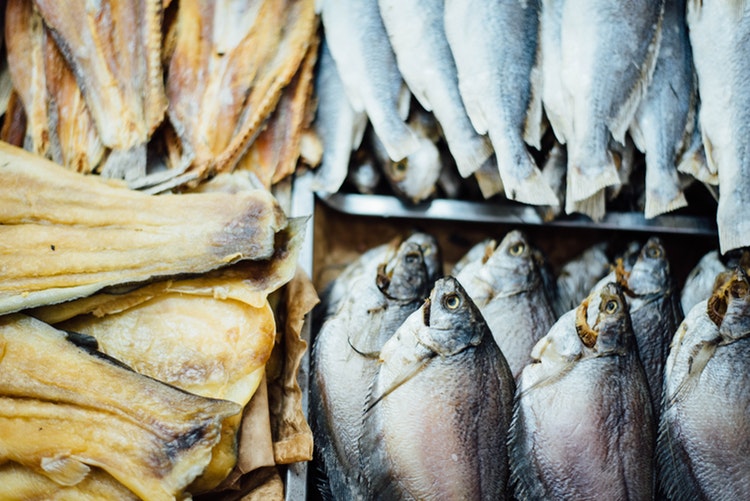 Most of us known about these things but we won't follow because of lots of reasons, however, it's better if we try to eat these regularly.