Anarkali is kind of flare dress that has an amazing flowy look. It came to India with Mughals and since then, it has become an important part of our culture. It is found in many different lengths and designs, but one aspect that grabs most of the attention is its colour.
So a colour that is all about perfection and modern elegance is red. The Anarkali suit has the immortal appearance and suits every woman. It is rich and glamorous, and that's why people count is as perfect wedding attire.
The Anarkali reflects love, passion, sensibility, joy, determination and leadership. It is great in every sense and makes you look classy.
You will feel confident after wearing it. You can find amazing styles in them. With a perfect selection of bottom wear, matching jewelry, footwear, and handbag, you can make it an amazing Anarkali salwar kameez combination. You can even mix and match it with colors like blue, black and white. No colour has such glamourous vibes as this multiple colour flowy ethnic wear.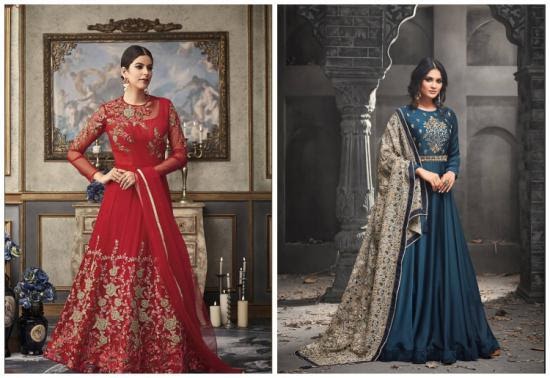 Anarkali is well known for its lovely colours, best quality fabric and attractive styles. These churidars and special wedding dresses are of traditional quality, but of trendy designs and patterns, even though these dresses belong to India, they are popular the world over.
All international markets for readymade dresses are flooded with these designer churidars suits in various colour combinations and patterns that meet the tastes and preferences of all customers.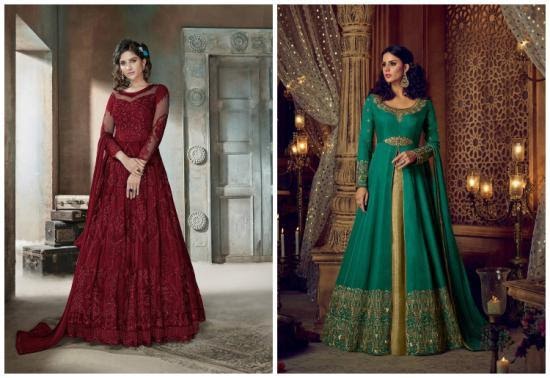 The bottom of the kurta is in the shape of the umbrella with unique border at the bottom, the long dupatta with heavy embroidery and the flares make these dresses distinctive among different types of salwar suit.
The stylish necks, designer sleeves, wide variety of prints, different fabrics and the exclusive embroidery works make them trendy and highly fashionable. These dresses are made with best quality fabrics such as chiffon, brocade, silks, crepes, georgettes, etc… The very special embroidery makes them look grand and ethnic. Those who wear these designer suits are assured to look distinctive in a group due to their exclusive designs and stylish patterns.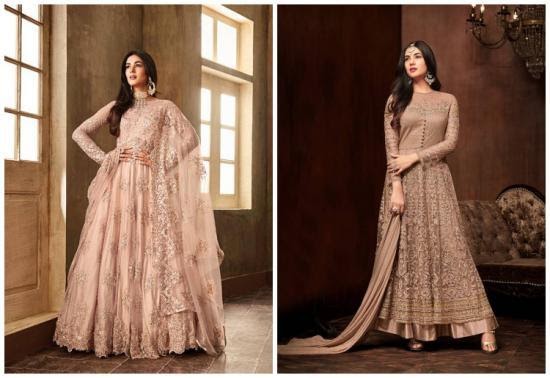 The embroidery of these churidars is pure handwork and they also provide embellishments to make the dresses more stylish as well as outstanding.
The size of the suits can be customized according to the requirement of individual customers and customization is offered free of cost. The highly sophisticated designs, enchanting colours and handmade embroidery make these dresses the most beautiful, dignified and charming dresses for females.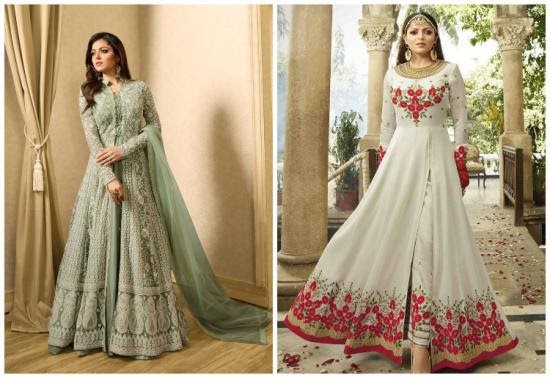 Anarkali shalwar kameez is the most ideal party wear for women and these suits are specially designed and made for formal occasions. The heavy embellishments, grand embroidery and very wide borders make them appear much different from the casual dresses.
In wedding parties and all other special occasions and celebrations, these designer suits of the traditional Indian attire are considered as of the latest fashion and they have emerged as one of the most popular designer dresses in each and every readymade dress market.
The popularity of this dress is due to its trendy appearance as well as comfort to wear. Since they are made of flowing material, they look elegant and provide a dignified feminine appearance to those who wear these dresses.
There are numerous online shops offering vast selections of these designer suits and it will be an exciting experience for the buyers to select the trendiest and highly fashionable suits online.
Women can also get dresses of custom made designs at affordable prices and online shops enable them to do the shopping from the comforts of their home.