As things are becoming normal now, people are ready to go out and embrace the fashion statement back again. Among all the different things, skirts are the most essential that you need to choose very carefully. There are many different types of skirts available that you can choose for you. First, however, you need to know which type of skirts are fashionable in 2022.
Whether you are choosing a day dress or designer tops, a skirt helps to complete the look. There are many trendy types of skirts available that you can choose for you. Here are some of the best ones given below with details. Keep in mind that you need to choose one based on the outfit and other fashion accessories
Type of Skirts
We are going to discuss seven different types of skirts that are quite popular in 2022. You can see the details below and choose the best ones based on your requirements. Most of them are worn by celebrities or actresses that increase the hype and make them popular.
Mini Skirt
Miniskirt first appeared in the 60s, thanks to the British designer named Mary Quant. Till now, the mini skirt is very popular, and it has evolved over the years as well. You can get many different types of skirts available such as animal print mini skirts, minimalist mini skirts, and others. Different types of skirts are unique for various outfit sets. However, they do not always have to create a style statement.
There are some common ones that come with casual looks and go perfectly with all types of outfits. Among all the different types of mini skirts, you can choose the mini denim skirt that makes your look perfect. The other half plays a significant role that helps improve the look of the skirt a lot.
Tulle Long Skirt
On the 2nd spot of this list comes the Tulle long skirts. Long skirts are mainly most popular during spring and winter. In the last year, tulle long skirts were trending due to their unique design and colors.
They are very different from the mainstream long skirts. This year, people might even consider wearing long tulle skirts. It is one of the most popular types of skirts in the long skirt section.
Monogram Skirts
If you are looking for a skirt design that is both cool and modern, this is the perfect one for you. As they are very fashionable, you will be able to pair them with any outfit easily. Also, different prints on these skirts will help you to pair them.
You can choose the best one based on color and print for your outfit. So, if you are looking for a trendy skirt, it is one of the best types of skirts you can choose from in 2021.
Tweed Mini Skirt
Another fashionable skirt that you need to know about in 2022 is the Tweed little skirt. It is becoming one of the best skirt types very fast. Just like the above-mentioned skirts, this one is also mostly used in the winter season. Therefore, it is considered one of the cutest winter skirts you can get in 2022 at an affordable price.
If you want to follow the fashion trends, this skirt is the best choice for you to wear in winter and other seasons. It matches perfectly with different dresses and makes you feel special wherever you go.
Fluffy Skirt
Another skirt that is perfect for winter and a very popular trend is the fluffy skirt. They are not only good for kids but also very fashionable for women. In addition, these skirts are known to be very comfortable, making them an excellent choice for everyday wear.
You can pair them with many different dresses and stay cozy in winter. You can visit the best online fashion boutique to find the best designs and colors based on your requirements.
Knit Skirt
As the name suggests, these knit skirts are the perfect choice for you to wear in winter. They are one of the exceptional types of skirts that help to make you look cute and awesome. This is a very good alternative to sweatpants that make you comfortable and warm in winter.
Mini Pleated Skirt
This one might be the most fashionable type of skirt that you can choose in 2021. They are not suited for winter; you have to wear an extra pair of sweatpants in winter with them. However, they are a very good choice to wear in spring or summer. You can wear matching tops and different jewelry to enhance your look.
Conclusion
If you are planning to enhance your look, you need to know the trendy skirts in the market. You can look at this list to find our seven best types of skirts that you can choose based on your outfit and accessories. Look at the details to discover more about them, like the best time to wear, skirt type, and others.
INFOGRAPHIC: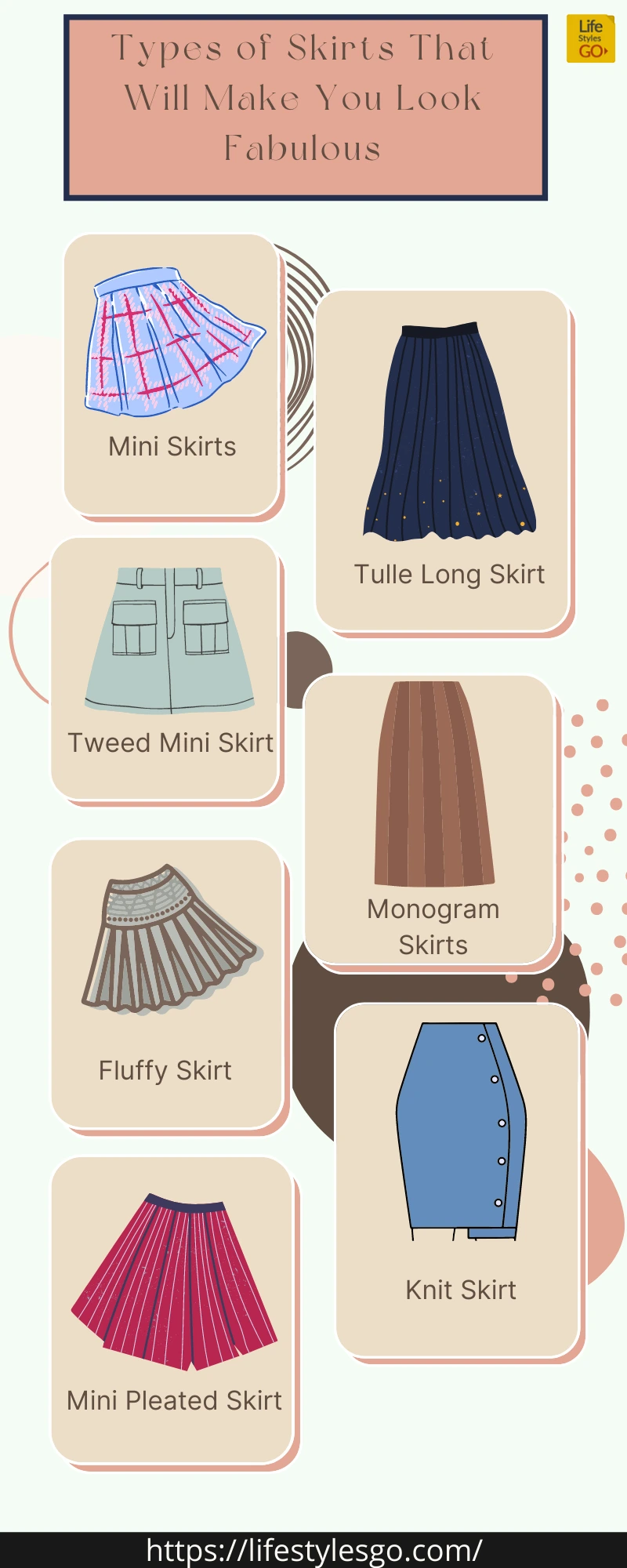 Photo by mentatdgt