Your business is protected against fraud by Buy Now Pay Later providers. They take care of any additional expenses. This means you can spend more money and reach more people. For a cherry on top, you won't experience any FOMO (Fear of Missing Out). Here are a few ideas on making the most of this cutting-edge payment method. Here are a few ideas for making it work for your company.
Buy Now Pay Later Advantages
Using a buy now, pay later payment method has several advantages. One can always buy whatever they want to at that moment, and end up paying the same later on.
1. Sales are Boosted
Buying goods now and paying for them at a later date is made possible by the buy now pay later option. Several e-commerce sites allow you to pay in installments for things that you are enamored with but can't afford to buy at the time. In-store firms have the same dilemma. The products that are most important to you make their way into your shopping cart.
Customers are also more likely to buy fewer essential things and keep adding to their shopping list because they now pay for later mental satisfaction and reduced financial stress. Customers return to buy more after a positive encounter with the product's quality and payment options. Sales conversions and incremental sales have risen by 25 percent and 17 percent, respectively, due to these factors.
2. Choosing the Best Place to Buy
There are many stores both online and in the physical world. Several factors to consider while looking for a product, including product quality and flexible payment choices. Regardless of whether you're purchasing a large or little item, the payment method should be convenient for you.
3. Options for Making a Payment
Customers who choose the Buy Now Pay Later payment plan get to keep their products while paying for them over time. A small percentage of interest is charged if you do not pay on time, which is suitable for customers. You can also decide how long and how much you'll have to pay for your purchased stuff. It's a win-win situation for both the store and the customer if they can offer these perks to their clients. Both parties win in this situation.
4. Methods of Payment
A good business owner should offer various payment options to their clients. Customers can pay using multiple methods, including credit and debit cards, bank transfers, UPI transfers, and transfers from an e-wallet. In addition, QR codes for payment are available in some establishments. For each company account, a unique QR code is generated. Scanning the QR code completes the transaction.
Customers are often reluctant to swipe their credit cards, enter a pin, or divulge their bank information. Buying now and paying later can also be done without revealing your personal information in this scenario. Messaging is a simple way to begin. Using your cell phone number, they send you an email. Paying with a phone number is as simple as clicking a button and entering your credit card or e-wallet information.
5. Trust in the Process
The bond between the customer and the retailer is strengthened when they agree to the buy now pay later method. They've built up a degree of trust over time. As a result, the client is more likely to make additional purchases in the future, increasing the company's overall brand value.
6. Millennials are More Likely to Use the "Buy Now Pay Later" Model
Many of the wants and requirements of today's youth can be met by purchasing a variety of consumer goods. There is an 87% variation between the ages of twenty-two and forty-six. Because they have less money set aside, they may choose the Buy Now Pay Later option, which allows them to make payments over time without incurring any additional costs.
7. Buy Now Pay Later Economic Advantages
When you pay in tiny quantity in a given period, it affects you less. When you don't have that mass of money or don't want to spend all of it, suddenly you go for this strategy. In addition, because of the installment option, the shop receives your payments and interest on time. As a result, both parties benefit. Please keep track of your expenses and pay them on time to prevent incurring late fees.
Conclusion
Many retailers are jumping on the bandwagon of buy now, pay later. Postponing payment has long been a popular strategy, and it is still popular today. Large purchases can be broken down into reasonable monthly payments, appealing to purchasers with tight budgets while also being advantageous for retailers aiming to reach clients of all financial backgrounds. The buy now, pay later market was probably born in the 1980s, and it has grown into a distinct industry in the last decade or so.
Buy Now Pay Later Advantages Infographic: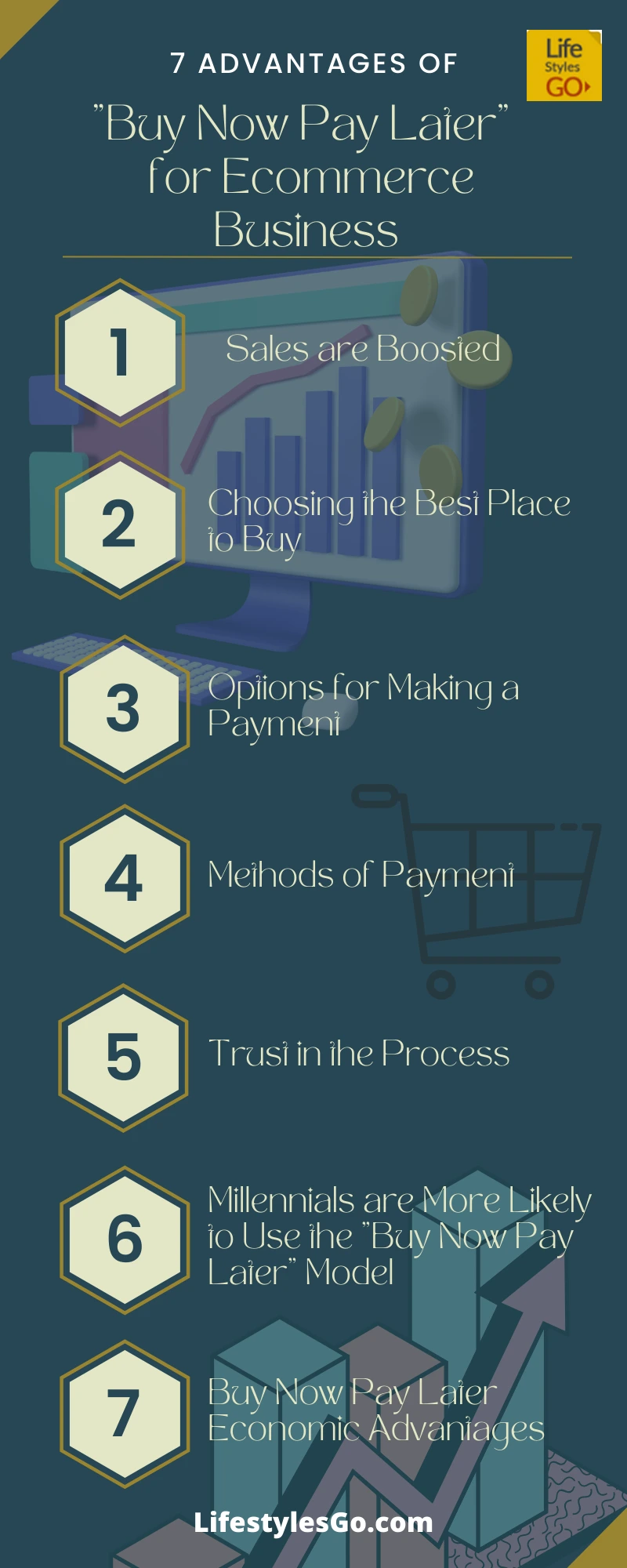 Photo by MarvinJames & Mohamed Hassan from PxHere