Making money from home would be great for anyone. Earning that extra cash is always a good deal as it helps you in sorting various bills. Most people have not taken that step and looked at how they could earn from home. In this article, we are going to look at some of the various ways that you can generate extra cash from home.
Online Surveys
One of the best ideas to make extra money from home is through online surveys. Survey companies are always looking for new participants, and you can sign up with a few different companies to increase your chances of being selected for a paid survey. Just be sure to complete your profile so that the survey company has a good idea of which surveys would be most appropriate for you.
Sell Items You No longer Need
Another great way to make extra money from home is by selling items that you no longer need. Have a garage sale or list items on online classifieds or auction sites. You may be surprised at how much people are willing to pay for things that you no longer want or need! These things sometimes might just be a liability to you, or you might be wondering what to do with them. Take that step and put them on auction sites. Old toys like  Stretch Armstrong and Beanie Babies are pretty popular items on sites like eBay.
Become a Writer
If you have a knack for writing, you could start a blog and offer paid subscriptions. Or, you could write articles for other blogs or websites in exchange for a link back to your own site. This is a great way to get exposure for your site or blog and can also help you build up a portfolio of writing samples. There is a great need for content hence this making it a good way of making money. It is always a good thing to make extra money from something you love.
Make Use of Your Skills and Talents
Do you have any special talents or skills that you could offer as a service? You could start a pet-sitting business, offer your services as a virtual assistant, or even teach others how to do something that you're good at. There are always people who are willing to pay for expert advice or assistance! We might assume that our skills are common knowledge to everyone. However, the moment you start selling out the skills as services, you will be surprised by how people are in need of it and also willing to buy the services.
Become an Affiliate to a Company
Finally, one of the best ways to make extra money from home is by becoming an affiliate for a company or product that you use and love. If you have a blog or website, you can include affiliate links in your posts and earn a commission on any sales that are generated. This is a great way to make some passive income, and it's also a great way to support a company or product that you already love!
Start an Online Business
If you have some extra time and are looking for a way to make extra money, why not start your own online business? There are many online businesses that you can start with very little investment. You can offer services such as web design or social media marketing, or you can sell products through an online store. If you are creative and have something to offer the world, this can be a great way to make extra money from home. At this current time, the availability of technology has made it easier for online businesses. Another added advantage of starting an online business is it only needs a little time.
Conclusion
These are just a few of the many different ways that you can make extra money from home. With a little creativity and effort, you can find a way to earn some extra cash that will help you pay bills or save for a rainy day. Whatever method you choose, be sure to research it thoroughly before getting started so that you know what to expect. And always remember, there are no get-rich-quick schemes – you need to put in the work to see the rewards. But if you're willing to put in the effort, there are plenty of ways to make extra money from home.
Clever Ways to Make Extra Money From Home Infographic: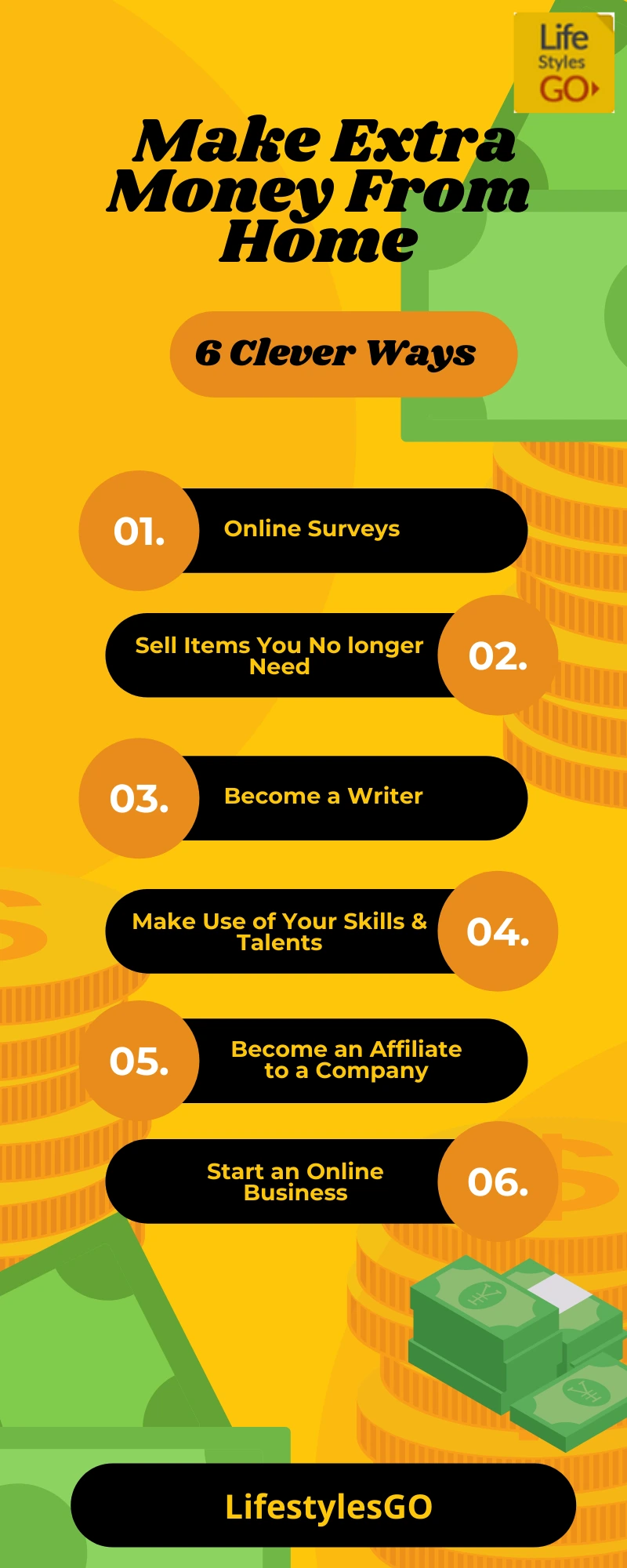 Photo by form PxHere