The Truth About Sustainability in Business: Businesses around the world have started to realize that they can achieve more by being good to the environment, society, and the world. As such, they are devising ways to do business without any negative effects on the environment, which is the whole idea of sustainability. Here is all you need to know about sustainability in business.
Understanding Sustainability in Business
Sustainability in business seeks to address the effects that business has on society and the environment. A sustainable business strategy helps create a better environment for future generations. A company that fails to take responsibility and instead makes a negative impact will be exacerbating social injustice, environmental degradation, and inequality. For a business to develop a sustainable strategy, they need to monitor the impact of every operation their business makes. With the right monitoring, businesses are able to avoid long-term liabilities that might result from short-term profits from unsustainable operations.
Sustainability in Business Practices
There are so many sustainable practices that businesses can adopt and no strategies are the same. A business can choose to go paperless by choosing to use software and online communication and business management means while another can choose to only go for sustainable materials. The strategies a business chooses should align with its goals and values. For instance, a business can adopt the following practices:
Use sustainably-sourced materials in their manufacturing processes
Use renewable sources of energy, such as solar and wind power in all their operations
Use automated demand response technology to cut down power usage in the manufacturing plant and offices
Develop a recycling program for supplies, paper products, electronics, and fluorescent light bulbs among other items
Create a chemical management program that does not affect the environment
Educate the local community or sponsor education on sustainable living
Optimize their supply chain operations to reduce their carbon footprint
Purchase energy-efficient products
Businesses can also create policies that ensure all employees follow the set sustainability practices and techniques. If all the employees are brought on board, it is easier for a business to maintain its sustainability practices.
Why Do Businesses Need To Be Sustainable?
Sustainability in business is good for the next generation. However, businesses can also draw success from being good to the environment and to society. A business is also able to reduce operations costs if they go for sustainable practices. Currently, several businesses use Environmental, Social, and Governance (ESG) stats to understand how a business impacts society as a whole. Such companies examine factors, such as water usage, carbon footprint, and board diversity to create strategies for the future.
According to research published on McKinsey & Company website, businesses that are able to analyze their impact on the environment and have high ESG ratings have a lower cost of debt. The idea behind companies adopting sustainable development practices was to improve their reputation and meet the needs of the customers. However, with more efficient electronics and energy-efficiency policies, and renewable sources of energy, businesses are able to save more on energy bills.
How Can Businesses Create a Sustainable Strategy?
Creating a sustainable business practice starts with a business understanding its impact on the environment and the problems that exist within or outside the company. Some of the pertinent issues that need to be addressed include:
Company culture and how it affects sustainability
Amount of waste an organization produces
Raw materials used in manufacturing processes
The knowledge of sustainability by employees
How the company helps the local community
The product or service target audience
Answering the questions above and others that you may raise helps you set sustainability in business objectives. From there, the business needs to set its mission. The mission can be something like building the most sustainable product, using the business resources to protect nature, and much more. To achieve the mission, the business needs a strategy. The best strategies are guided by internal and external opportunities and resources. For instance, consider if your target audience is willing to pay more for your product if you use sustainable production practices.
You can create the best sustainable business practices, but without policies to help see these strategies through, they may fail. As such, the implementation phase needs to be planned thoroughly. Follow the objectives to set achievable goals.
The Truth About Sustainability in Business Infographic: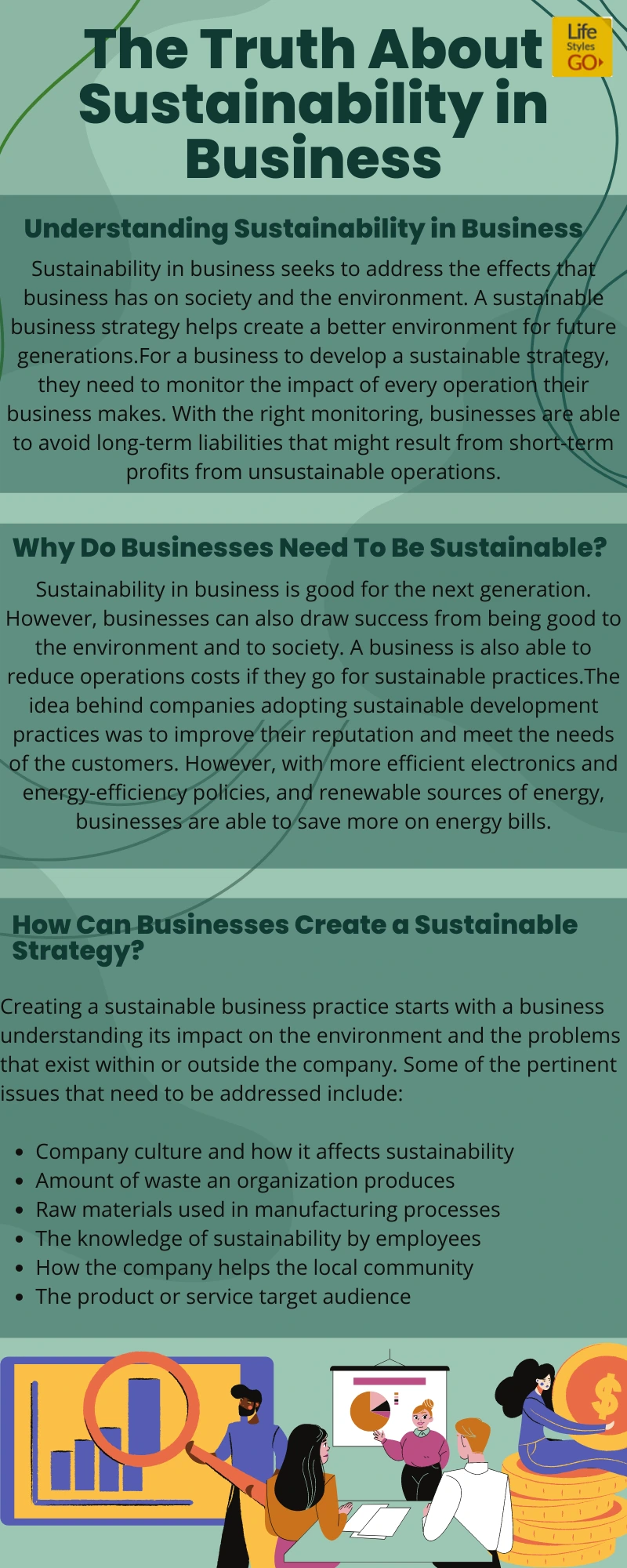 Photo by form PxHere