Today, business owners have the option to used managed IT services or hire a full-time IT team. As the manager of a small business you may be wondering which one of these is the smarter option. The fact is, both of these have pros and cons, and it is important to know both before you can make up your mind.
Managed IT services means that instead of hiring employees to work on your systems and data you outsource all services to one vendor. If you are a new business they will help you source computers and set them up, they will create a website, they will help you acquire all necessary software, they will secure and manage your domain and anything else that is connected to
computers and data.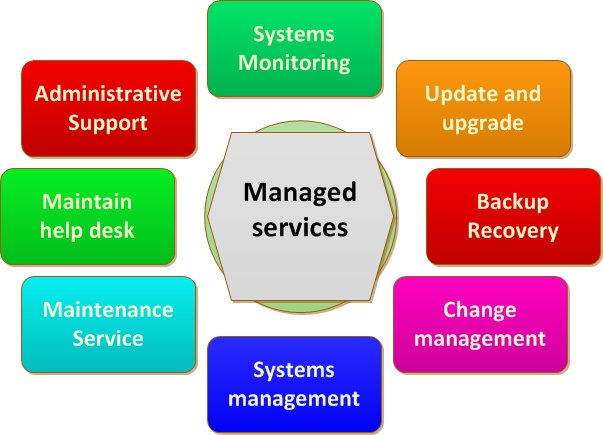 They may also offer a running service, such as running a PPC or SEO campaign. If you are an existing business you can hire them to take over any area of IT that you feel may be lacking.
The benefit of such a service is that you get to work with a company that has all the capacity and expertise needed for your business to run smoothly. Managed IT companies have employees who are skilled in all the necessary areas – they are experts in hardware and software, they know all about webs design and they are excellent at optimization so that your website can be ranked. Many companies opt for managed IT services because you don't have to pay them if you don't need them – you can call them in only when you have something for them to do, and this helps save money.
If, on the other hand, you choose to hire an IT department there are several pitfalls that you should be prepared for. While you will have a dedicated team that works only for your business, you will also be spending a lot more money – you have to pay them whether they are busy or not, you have to provide them with benefits, bonuses and more. Over time the cost of maintaining such a department will have a significant impact on your bottom line.
Dedicated IT employees tend to face another challenge – they often do not have all the expertise required to help run an efficient IT department. While an employee may be an excellent website designer, they may not be very good at hardware or systems, which forces you to hire these services every time they are needed. Managed IT services have all the experts they need on board, so they can provide whatever services you need.
The other problem with hiring an in-house team is lack of fresh and innovative ideas. When you have people who work for you all the time they may start to look inward; developments in IT will pass them by because they have no motivation to keep up with what is happening in the industry. A managed IT company is just the opposite – they stay fresh so that they can pass on new ideas to their clients.